Cup winner from mare with crooked leg
By Peter Wharton
Wrangler, who won the $30,000 South Australian Pacing Cup at Globe Derby Park, is an eight-year-old gelding out of Jen Marie, a Christian Cullen mare who had a bent leg.
Despite her abnormality, Jen Marie, a winner herself, has produced seven winners from seven foals of racing age, six of whom have taken records of better than 2:00.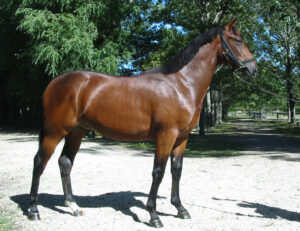 Wrangler (Bettor's Delight), who boasts a record of 1:48.8 and a bankroll of $286,135, is the fastest and richest of her progeny.
"He was one of the nicest colts we ever bred," Ken Spicer, of Rosedale Farm, Ladbrooks, said.
Wrangler was knocked down to leviathan owner Ian Dobson for $180,000 at the NZ National sale at Christchurch in 2015. He won five races in his homeland before Dobson sent him to race in Australia as a five-year-old.
He later won nine races in NSW and two in Victoria, Queensland and SA.
Jen Marie is also the dam of the 2018 NZ Derby winner Sheriff – a brother to Wrangler – who is now racing successfully in North America where he has taken a record of 1:52.2.
Others from Jen Marie have been General Montana, who has won five races at Albion Park to date and holds a mark of 1:53.5, the Melton winner Real Dash (1:57.5), El Dorado (1:58.3), Delight (1:58.5) and Cyrus. A yearling full brother to Wrangler is in work with Robert and Jenna Dunn, while a two-year-old full brother is being trained by Regan Todd.
"Six of her first seven foals were colts, so we have decided to retain a weanling filly out of her by Bettor's Delight," Spicer said.
Jen Marie was out of Inspiring Dash, a Falcon Seelster mare bred by Adelaide enthusiast David Shammall. She won five races and $35,577 in stakes and took a mile mark of 1:59.
Inspiring Dash was originally bred from by Spicer and his wife Anne Marie with breeding partners Bob and Jenny Sandford.
Her first foal was the Christian Cullen filly Rona Lorraine ($133,268), a Group 1 winning juvenile.
Jen Marie, the dam of Wrangler, was her third foal, the next was Cracka Stride (by Christian Cullen), who sold for $130,000 and earned $119,405, followed by the outstanding Mach Three mare Venus Serena, who won seven Group 1's and was the NZ 3YO Filly of the Year in 2014.
"Venus Serena was passed in at the sales and we gave our share in her to the Sandford's in exchange for the next foal, which we kept on our own account and sold at the sales. That foal is the mare Keayang Cancun (by Mach Three), who has won three races in Victoria," Ken said.
Venus Serena is now making her mark in the broodmare barn. She ranks as the dam of the Ashburton Cup and Northern Southland Cup winner Laver 1:51.9 ($148,095) and the five-time Menangle victor Arden's Ace 1:52.8 ($108,835), her first two foals.
The Spicer's are now breeding from three daughters of Rona Lorraine in Bettor Think Twice 1:57.3 (by Bettor's Delight), Black Raine (by Bettor's Delight) and Beaujolais (by Art Major).
"A Captaintreacherous colt from Bettor Think Twice sold for $185,000 at the NZB Christchurch sale in February, while an Art Major filly from Rona Lorraine fetched $80,000," Ken stated.
A two-year-old Art Major-Inspiring Dash filly has been retained and is in work with Geoff Dunn.
Spicer estimates the winners-to-foals strike rate of this family is between 80 and 90 percent.