PRIMARY ITO EQUINE BREEDING COURSES
EXCITING NEW COURSE – ENROL NOW!

If you have an affinity with horses and are committed to the high level of care needed to nurture quality horses, you'll find a career here that will open doors both nationally and internationally.
The NZSBA has options to help cover your course fees and the new Apprenticeship Boost scheme is available to employers of Level 4 enrolments.
Trainees who enrol in these courses also get the added benefit of a free NZSBA membership.
PREREQUISITES
• Employed in the NZ Racing Industry
• Age at least 16 years, with no upper limit
• Good health, sound character and motivation to succeed within the industry
BREEDING – LEVEL 3
Targeting more recent graduates to the industry, this programme will provide the skills and knowledge to assist with all aspects of breeding, mating, and the early education of young horses providing a solid foundation for your career.
Trainees who graduate from this course will be able to work under limited supervision with responsibility for work outcomes. Level 3 is best suited for trainees who are entering the industry as it provides all the skills and knowledge to assist with all aspects of breeding, mating and early education. The course includes;
Assisting practically with:
• Teasing
• Artificial Insemination
• Foaling
• Handling, routine health and nutrition of weanlings and yearlings
• Routine care of paddocked horses
Knowledge with:
• Reproductive physiology and cycling
• Equine conformation
• Pasture management
• Prevention, identification, and treatment of ailments
• Communicating and working in a team and legislative obligations in equine workplace
Duration: 13 months
Qualification: NZQA New Zealand Certificate in Equine Breeding (Stud Groom) Level 3
BREEDING – LEVEL 4 APPRENTICESHIP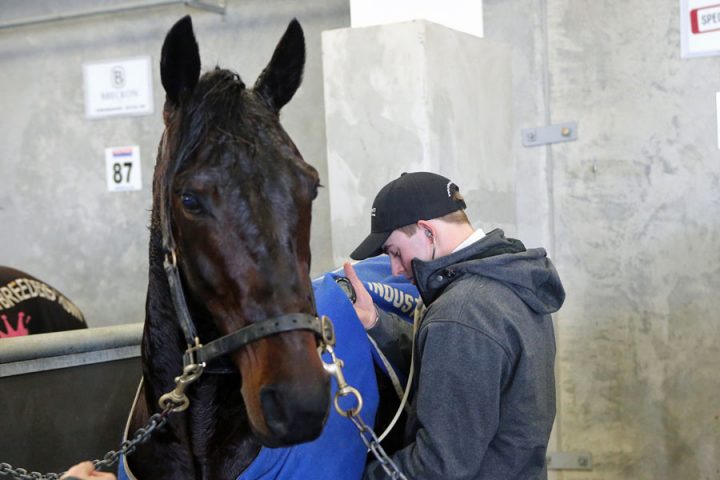 Formalise your workplace learning and gain an accredited Level 4 NZ qualification by completing this Breeding apprenticeship.
Trainees who graduate from this course will have undergone a New Zealand Apprenticeship and have the skills to work in a self-managed capacity under broad guidance and may have responsibilities for the performance of others.
Implement and monitor:
• Stud farm breeding programme and teasing
• Foaling, post foaling activities, foal development
• Foal development
• Educating weanlings to yearlings and managing health and nutrition
• Yearling preparation programme through to sales
• Assessing and evaluating conformation and action
• Pasture and feed management
• Preventative health programme
• Health and safety plan for a workplace
Knowledge of:
• Equine physiology and psychology
• Fostering orphan foals
• Managing conformation faults
• Evolution of the thoroughbred
• Evaluating potential and practical aspects of genetics
• Evaluating pasture production methods
Duration: 22 months
Qualification: NZQA Apprenticeship in Equine Breeding Level 4