2020 NZ TROTTING BROODMARE OF EXCELLENCE – NAKURA
By Peter Craig
16 November 2020
At the Dunstan Horse Feeds Breeders NZ Cup Eve Cocktail Function in Christchurch early November 2020, it was announced that NAKURA was the recipient of the 2020 Trotting Broodmare of Excellence Award.
2020 is the second year separate awards have been made to both pacing and trotting gaited broodmares (as opposed to one overall award).
NAKURA (1985f Jet D'Emeraude/Nakaia; another member of Australasia's leading family Pride Of Lincoln, CF N1) : five win trotter, T2:09.0, $19,830; thirteen foals, seven raced, three winners, one sub two minutes, millionaire winner. Bred by Bruce and Andrew Corkran; progeny bred by Cockrans – Andrew and Paul individually or collectively except Regal Charm and Saila Charm (Mrs Sue and Austin Williams).
| | | | | | | |
| --- | --- | --- | --- | --- | --- | --- |
| DOB | FOAL/WINS BY LOCATION | NZ | AU | G/T | MR | $ |
| 1993 | Nows The Moment (f Yankee Jolter) | 5 | 0 | 5 | T2:04.6 | 31,577 |
| 1995 | Take A Moment (g Armbro Invasion) | 33 | 6 | 39 | T1:57.2 | 1,132,695 |
| 2002 | Another Moment (g Sundon) | 7 | 0 | 7 | T2:02.2 | 60,327 |
|   |   | 45 | 6 | 51 |   | $1.225M+ |
** Conversion: $A1=$NZ1
By French stallion Jet d' Emeraude, Nakura was a winner of five races having her first two wins at Ashburton over Queens Birthday weekend,. Beginning of sequence of four successive wins, the latter two at Addington. These successes resulted in her being named four year old trotting mare of the year. A fifth and final win was at Addington as an early five year old without a taste of success again when racing for a further two years. Retired to the broodmare paddock, Nakura bred on through her fillies and two successful geldings as outlined below.
Dam Nakaia (1977f Crockett/Morning Haze) attained three wins, T2:12.0, $5,365 leaving another winner in dual gaited Naraya, three wins, T2:10.1 (qualified in 2:07.3 as pacer), $15,500, dam of seven live foals for one to race :
Stig, $841,529, twenty two New Zealand wins, T1:55.2, Jewels – 4T, Ashburton Flying Mile (twice), NZ Trotting FFA, Dominion Handicap, National Trot, Rowe Cup/one AUS win, T1:57.2, heat Great Southern Star; seconds Dominion Hcp (twice)
unraced mare Only A Moment, dam of Dream A Moment, four NZ/twelve AUS wins, T1:57.5TT, $138,907 and four other winners; grand dam of Moment In The Sun, seven wins, T1:55.0 (Menangle)
unraced mare Bree, dam of Get Lucky, four wins, T2:01.8, $93,573, NZYSS – 3T.
Grand dam Morning Haze (1973f Tuft/Haze) was unraced with Nakaia being her only foal. Third dam Haze by Light Brigade stallion Misty was race placed as a nine year old trotter from limited starts leaving eleven foals for a winner in Rere Hine. Fourth dam Gratse (Josedale Dictator) was unraced leaving four foals, seven win trotter Cover On and pacing winner Angmargo.
Nakura's female tail line continues back to Pride Of Lincoln through Kamaldar, Merce, Authoress (dam of Author Dillon, NZ Derby, NZ Cup, NZFFA three times, successful sire) to classic producing mare Thelma. Nakura is nine removes from foundation mare Pride Of Lincoln.
Nakura's male progeny includes :
Another Moment, seven wins, five at Addington, T2:02.2, $60,327
Take A Moment, bred in the Central Districts by Andrew (AM) Corkran whose nephew Paul (PA) joined him in ownership and trained him in Canterbury. After winning four of his first six starts for the Corkran's as an early five year old, Tim Butt organised the Long Drive syndicate of Bruce Greenhalgh, Barry Cotton, Jack O'Donnell, Merv Rodgers, Peter Barber, Neven Botica, Julie King-Turner, Tom Malcolm and Trevor Woolley to purchase Take A Moment for $120,000.
Take A Moment (1995g Armbro Invasion/Nakura), one of New Zealand's greatest ever trotters who raced from 2000 to 2005 (five – ten year old), winning 39 of 67 starts which included six of sixteen starts in Australia. A millionaire, his major victories included two Inter Dominion Trotting Championship Grand Finals :
2001 : just his seventeenth career start (eleventh for Tim Butt and Long Drive Syndicate)  2003 : Take A Moment's thirtieth winning performance, undefeated through the whole carnival for Premier Stables trainer Tim Butt and driven by  brother and ID Hall of Fame inductee Anthony Butt,
Three consecutive Dominion Handicaps (including dead heat, only other trotter to have won three is former stable mate Lyell Creek) and a Rowe Cup – thirteen Group Ones, seven Group Two's, five Group Three's and best mile rates of  T1:57.2NZ and T1:57.7AUS. Between 28 October 2002 Ashburton Trotters Mile and 12 December 2003 Bill Collins Mile at Moonee Valley, Take A Moment won 18 races in succession (including three wins in Australia), just short of Lyell Creek's record of 20 straight wins for a trotter.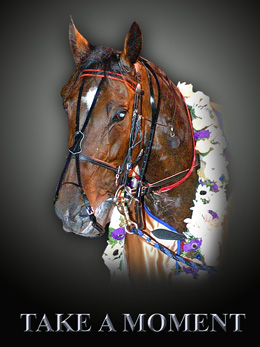 Awards won by Take A Moment included Australasian Grand Circuit Trotting Champion (twice), NZ Trotter of Year (twice), NZ Aged (5yo+) H&G Trotter of Year (twice), NZ Harness Horse of Year, Australian Trotter of Year, NZ stake earning Trotter of Year (three times) and inducted into NZ Trotting and Addington Harness Halls of Fame. Tim Butt trained him for sixty one of his sixty seven Australasian starts (thirty five victories) and Anthony Butt drove Take A Moment in fifty eight Australasian starts winning on thirty five occasions.
Other qualified and raced male foals included unplaced pacer Saila Charm ($411) and race placed trotter, Dark Moment, $1,625.
Nakura's fillies include :
Nows The Moment, five win trotter (two Alexandra Park), T2:04.6, $31,577, dam of eleven live foals, eight winners including :
Moment Of Truth, twenty nine wins spread over twelve seasons, T2:02.5, $269,772
Dr Hook, twenty wins (sixteen NZ/four AUS), $453,366, T1:56.2, CPTC Trotting Cup/Ashburton Trotters Miles twice, ID heat, Summer Trotting FFA; second AUST Trotting Championship, Jewels – 4T, Rowe Cup, Dominion Hcp, ANZAC Cup; thirds Rowe Cup. Lyell Creek, National Trot
Oscar Bonavena, among the current crop of boom trotters, tenth live foal, from nineteen overall starts, twelve NZ wins, non-winner AUS, T1:55.2, $175,315, CPTC Trotting Cup, Waikato Flying Mile, Cambridge Flying Stakes; second NZSS – 2T; third National Trot; four year old H&G Trotter of year; NZR's 3yo trotter 2600m stand T3:18.1, 4yo trotter and all comers 2400m stand T2:59.8
The Moment, four NZ wins, T2:05.3, $31,807
The Truth, nine wins (two NZ/seven AUS), T2:04.1, $59,290
Momentous, six wins, T2:08.7, $63,900
I've Got This, five wins, T2:04.5, $42,732
My Moments Now, three wins from nine starts, T2:03.6, $28,412
Juverna, race placed trotter, $525, dam of sixteen foals for nine winners including:
Quite A Moment, sixteen wins (six NZ/ten AUS), T1:55.3 (2016 : VIC Trotters mile record), $405,856, Breeders Crown – 3T, Lightfoot Laurels, National Trot, second Dominion Hcp, thirds VIC Trotters Derby, Great Southern Star, Dullard Cup; NZR's – mares/all comers 2700mM, T3:19.9 and 2000mM 3yo fillies, T2:30.
Duke Of The Moment T1:59.6, twenty three wins(six NZ/seventeen AUS), T1:59.6, $186,844,
Kevies Moment, seven wins, T2:06.8, $58,301
Bankers Moment, five wins, T2:00.6, $35,167; dam of three win trotter Kai Time
Take N Time, winner, T2:10.6, $6,598
Eight Double Eight, three wins, T2:07.4, $20,259
Cameo's Moment, nine AUS wins, T2:03.5, $53,123
Moment Of Love, two wins, T2:05.8, $16,518
Muscle Moment, winner of only start, T2:16.6, $3,300
Sunny Moment, unraced dam of six foals including four win trotter Luck Of The Moment, T2:04.5, $44,173
Regal Charm, unraced, dam of three live foals, grand dam of winning trotter Regal MomentJust A Moment, race placed trotter, $6,708, dam of four foals, two winners in Majestic Stride (three wins, T2:08.6, $31,266) and Precious Moment (four wins, T2:02.8, $31,946)
Stay A Moment, unraced, dam of six live foals including Majestic Moment (five NZ wins, three Addington/one Alexandra Park, T1:55.4US, $81,275), Ace Moment (five wins/four Alexandra Park, T2:05.7, $54,452)
Pick The Moment, unraced dam of one foal, Addington winner Spy Da Moment, T2:08.4, $12,165