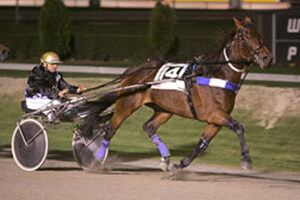 Despite retiring from the broodmare barn, champion racemare Allegro Agitato keeps delivering for Cambridge breeders Roni and Michael Lauren.
The five-time Group One winner was represented in the winner's circle at Alexandra Park on Friday night by Lady Be Good (Andover Hall-Allegro Agitato-Sundon) who sped away from her rivals in a mares' free-for-all over 1700m. The five-year-old reeled off a smart 57.9sec last 800m clearly a pointer to some of the brilliant sectionals her dam used to carve out on tracks up and down New Zealand when she was an open class force for trainer Phil Williamson.
Though the Laurens went into Friday night's race with full faith in their mare, punters didn't, letting her win price slide out to $16. But it was the faith of her formerly Otago-based owner-breeders that won out in the end.
"It was surprising that no one thought the same thing before the race, though I am sure the people that backed her would have been happy," Michael Lauren said. "She has been consistent and she has shown us quite a bit of ability right from her three-year-old days."
Though she has retired from breeding there is still plenty to come from the family of Allegro Agitato.
Lady Be Good is the fourth foal from the champion mare following her first, seven-race winner, I Got Rhythm (Majestic Son-Allegro Agitato-Sundon). I Got Rhythm has produced two foals, having foaled to Volstead recently. Her first is smart recent winner, Funny Face (Peak-I Got Rhythm-Majestic Son). Sold at the National Yearling Sales by the Laurens, the Graeme Rogerson and Dylan Ferguson trained three-year-old has bolted-in in his last start at Cambridge by seven lengths.
Allegro Agitato's second foal, Gershwin (Muscles Yankee-Allegro Agitato-Sundon) has been retired recently after notching 11 wins. The gelding finished his career in Southland with Jeremy Douglas.
Douglas who has also raced Allegro Agitato's third foal, It's Summertime (Angus Hall-Allegro Agitato-Sundon).  The seven-year-old won her first race after plenty of attempts in April of this year. Just two months later her first foal Summer Lovin (Love You-It's Summertime-Angus Hall) won his first race for breeders, trainers and owners Greg and Nina Hope. The Hopes borrowed the mare from the Laurens, who had leased her to Douglas to race. Douglas will take a foal from It's Summertime and he has her booked to En Solitaire.
After Lady Be Good came Allegro Agitato's fifth and arguably best-bred foal, I Got Music (Muscle Hill-Allegro Agitato-Sundon). The four-year-old was seventh at Alexandra Park on Friday night following a win at the track earlier this month. I Got Music has won twice from Paynter's stable for the Laurens.
Allegro Agitato has two foals that have not hit the track.
"We have her final foal a Creatine two-year-old is in work with Ross Paynter at the moment, we have three with Ross. Hopefully he might make a three-year-old."
Allegro Agitato's second last foal by Love You was sold at the National Yearling Sales to Brad Williamson. Sadly, he died after showing some ability.
Words |  Jonny Turner