Armstrong's trans-Tasman triumphs with Spellbound
20 May 2021
By Dave Di Somma, HRNZ
Nigel Armstrong only has to look at Spellbound's formline to know the decision to send her to Australia was a good one.
The four-year-old daughter of Art Major has won three straight at Melton since April 24, earning $AUD36,480 or $39,310 in the process.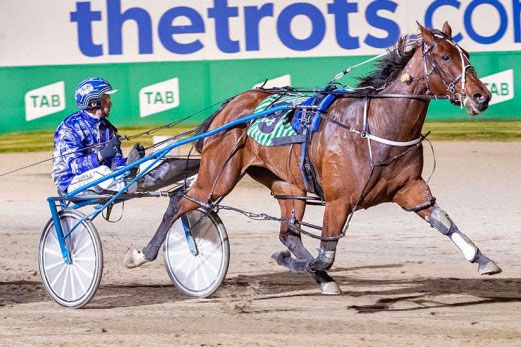 "She can run in mares' races every week, that's the biggest drawcard, every week she's running for 20-30 grand and she's up against the mares, rather than the colts and geldings here," says Armstrong.
Armstrong is well-known to racing fans in this country, through his interviews on his Harness Racing Unhinged Facebook page.
He's also been involved in horse syndication for a decade. Of the 28 or so horses he's had Spellbound, or "Foo" as she's known, is the stand-out. All up there are 300 involved in racing her.
Armstrong explains : "Westview Racing syndicate number 19 owns the horse, of that syndicate I own 50 per cent and I've race leased 30 per cent to the Witches of Westview syndicate which is 256 women. So there's 50 owners basically and 250 who race lease."
Complete with their hats and brooms, the witches are quite the sight at racecourses when their horses are racing.
Spellbound won five from 29 in this country, now the raceday experience is altogether different.
"Yelling at the TV is good but not as good as yelling at the horse in person," he says, "I do want to go over but not spend 14 days in quarantine if things go wrong."
The decision to send the mare to Australia was not an easy one – "it was quite emotional" – and prompted by the thought she'd be treading water on this side of the Tasman.
"The reason we did it is that (driver) John Dunn said she'd have one or two more wins in her but then she'll be taking on the open class horses, which is always a big step up."
In contrast in Victoria there are mares races over 1720m week in week out.
"She can cruise along at a 1:52 or 1:53 rate and then just keep going so the short course races suit her down to the ground."
Spellbound's career in Australia is guided by expat Kiwis, trainer Nathan Purdon and stable foreman and race day driver Stuart McDonald.
After her third win in as many starts at Melton last Saturday McDonald said : "She's not just fast, she's tough as well. She seems really suited over here."
Spellbound's next opportunity is again at Melton on Saturday night. She's drawn one on the second row in the Group Three Allied Express Richmond Lass Mobile Pace.
"She always gets the visitors' draw," says Armstrong, "She'll need a can opener or a miracle to get out of there!"
When her racing days are done "Foo" will head to the broodmare paddock.
"The plan is to bring her back and breed from her."
In the meantime he hopes the winning sequence can extend to four, and it's a fair bet to think that Armstrong and a lot of witches will be glued to the telly at 8.32 on Saturday night.