Barry Clark has a 57-year flashback
by Duane Ranger
Veteran Greenpark horseman, Barry Clark, had flashbacks of Gore – May 3, 1966, following Mighty Logan's (Creatine – Landora's Siesta – Sierra Kosmos) first victory at Addington Raceway on Thursday (February 23).
"That was my most impressive maiden win since Logan Count won for Dad (Tom) at Gore all those years ago. That trotter later went on to win the 1968 Dominion Handicap from 12 yards behind for Dad and Uncle Leicester (driver).
"I'm not saying this fella will be that good, but my word that was an imposing win. That's exactly what Logan Count (1961 Court Martial – Marion Mack – Logan Derby) did.
"You can't be more impressive than that. I was delighted because this fella has taken a bit of work to get him to finally turn the corner," Clark said.
The Clarks co-bred and owned Mighty Logan who was having his sixth start in Friday's first race – the $12,000 IRT Trot.
Driver, John Morrison had the Dean Taylor trainee wide and parked early before surging him to the lead down the back straight – on a very hot pace.
Then a lap later the black Creatine 4-year-old gelding left them to it winning by 10.5 lengths with a leg in the air. He was the $2.10 favourite.
"It's a shame the mare died a couple of years ago when she was about 15 because none of the other four foals, apart from the first one Landora's Logan (2011 Sundon gelding) wanted to trot.
"He had a lot of ability and placed in a couple of his starts, but sadly broke down when he finished third at Methven in March 2016.
"Then she left four foals between 2012 and 2017, who just didn't want to become racehorses. Then this fella (Mighty Logan) popped out in October 2018," said Clark, who co-owns Mighty Logan with his younger sister, Diane.
"He's not only the best of her progeny but he will forever be the only winner out of the mare," he added.
He said he sent the colt to Dean Taylor to get broken, but he was no easy assignment.
"He's taken over a year to get to where he is now. Dean has done a tremendous job with him. The horse used to be a very scared, nervy thing, but now that he's got his confidence he's really started to come right.
'The family has taken a while to breed a good one, but this fella is a direct descendant of Dominion (1988), Rowe Cup (1987) and Northern Trotting Derby (1983) winner, Landora's Pride (1979 black Game Pride – Landora – Goodland 34-win mare).
"That is why I bought Landora's Pride's grand-daughter – Landora's Siesta (2006 Sierra Kosmos – Landora's Charm – Chiola Hanover unraced mare) at the 2008 Yearling Sales.
"I knew the breed was good and I thought $800 was more than a fair price. It was a great family because Firm Offer ran third behind Landora's Pride in the 1987 Rowe Cup, whom I drove. She was the 3-year-old trotter of the year. She also held the Forbury Park track record in the Winfield Trotting Cup," Clark said.
Clark, who has farmed in Canterbury for most of his working life, said he was still loving the horses well into his retirement years.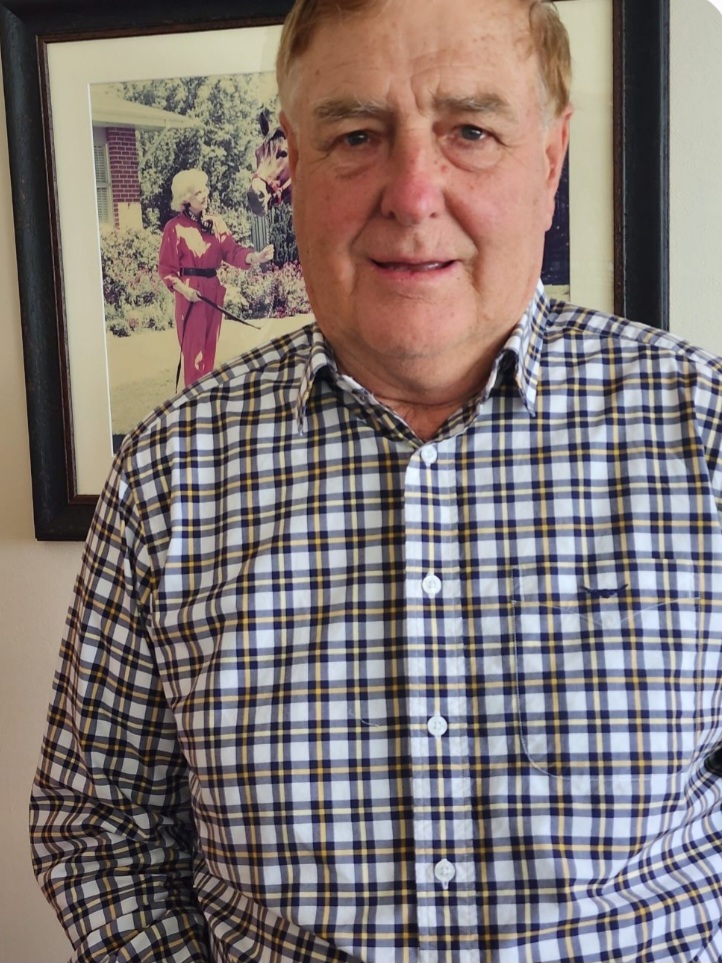 "It's nice to have a good one like this going around. But he's got a wee way to go to beat the best I've bred.
"That would be Logan Dryham 1980 Dryham Lea – Logan Cheval – Court Martial six-win gelding). He beat Roydon Glen six times, and I got hurt driving him in the smash-up in the 1984 New Zealand Derby. I did my shoulder. I remember Naval Officer (Mike de Filippi) won the race, and Charlie Hunter also went down on Tucker's Rule. That was his last ever drive sadly.
"Logan Dryham was the best I've bred so far, and the best I've raced would be the former Forbury Park track record holder, Firm Offer (1981 brown Honkin Andy – Fair Alda – Armbro Del nine-win ($70,855) pacer). He raced in the late 1980s," Clark said.
"My family has bred some nice horses over the years. Mighty Chief (1960 My Chief – Gala Girl – Red Emperor 20-win gelding) won the 1965 Dominion for Uncle Leicester.
Clark was born in Christchurch and was educated at St Andrews College.