Bettor Twist brilliant on big night for Cullen & Rasmussen
22 May 2021
By Jonny Turner
The queen had to earn her crown and Bettor Twist did it with style when taking out the Group One Breeders New Zealand Oaks at Addington on Friday night.
Doing midrace work and sitting parked in the second-fastest ever running on the 2600m classic were of little worry to the champion Hayden Cullen trained filly as she powered to the line to again confirm her star status.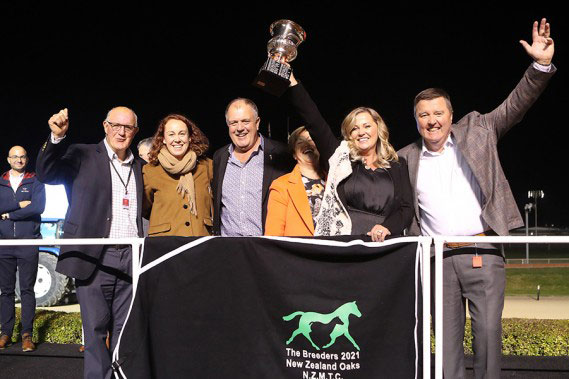 The victory was aided by a pinpoint Natalie Rasmussen drive on a night she and Cullen dominated the Addington card with dual Group One victories.
Rasmussen's fellow leading reinswoman Samantha Ottley set up an enthralling affair and made Bettor Twist work for her second Oaks crown with positive early tactics behind her archrival La Rosa.
Sent forward early, Ottley parked the favourite early and set a strong clip in front to give her charge her shot at taking down Bettor Twist.
And while La Rosa was brilliant in second her effort wasn't enough to hold out her star rival who thrived in her second attempt over on Oaks distance.
"La Rosa really made a race of it and our filly had to be good tonight," Cullen said.
"And she showed how good she is."
"She has always gone well over the shorter distances but I thought 2600m would suit her right down to the ground."
"She really stuck to her guns the whole way and we got the job done."
Akuta produced a Group One victory equally as powerful as his stablemate's when running away from his fellow two-year-olds in the Garrard's Sires Stakes Series Final.
Fresh off his brilliant win in last week's Harness Million Final, the pacer produced an even more impressive victory when overcoming drawing on the outside of the second row.
"He was really good last week and he had to be really good again tonight," Cullen said.
"Nat could have let him go at the 400m, but she held him up a bit and she said he pretty much jogged it."
Cosmic Major chased hard behind Akuta to provide Cullen with a stable quinella in a repeat of the pair's one-two finish in last week's Harness Million.
Cullen and Rasmussen not only dominated Friday night's Group Ones, but they also enjoyed undercard wins with Italian Lad and Samhara.
Rasmussen also guided the Brent Mangos trained South Coast Arden to victory in what can only be described as a masterclass performance in the sulky.
"She is just one of the best, you can't say anything more, really," Cullen said.
"She does her form well and she puts the horses in the right place at the right time."
Cullen also helped breeders Paul and Pauline Renwick enjoy a big night at Addington on Friday.
The Canterbury couple bred both Akuta and Samhara who continued his rise with his win in the Listed Sires Stakes Sophomore Classic.
Cullen will now consider a Jewels campaign for the three-year-old, who has won his last three starts.
"Over the next few days I will speak to the owners about the Jewels."
"He is a horse with a lot of ability and I think with one more break under his belt he will come back a really good horse."
Ian Dobson also enjoyed a notable double at Addington by sharing in the ownership of Akuta and free-for-all trot winner Muscle Mountain.
Both horses are now red hot favourites ahead of next month's Harness Jewels.