Bettor's Wish to stand at Alabar
3 June 2021
From HRNZ
Alabar is excited to announce the addition of champion racehorse, Bettor's Wish to its stallion roster for 2021.
Bettor's Wish was a truly exceptional racehorse being named US Three-Year-Old Pacing Colt of the Year and returning at four to be named US Aged Pacer of the Year – the first horse to accomplish the feat since Art Major!
Sired by champion stallion Bettor's Delight, Bettor's Wish is very much his father's son.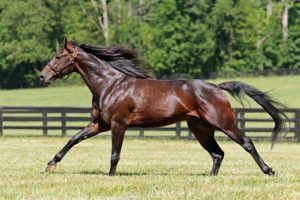 As a three-year-old, Bettor's Wish was the richest standardbred in North America earning $1,750,320. He finished no further back than second in 19 starts with his 13 wins for the season including victories in the Art Rooney Pace, Tattersalls Pace, Milstein Pace and Matron Final.
He also finished runner up in the Breeders Crown Final, TVG Pace, Messenger, Meadowlands Pace and North America Cup.
As a four-year-old, he picked up where he left off and was the richest aged pacer of the year. He scored victories in the TVG Final, Allerage Pace, Sam McKee Pace and the Daytona Derby.
Bettor's Wish retired to stud duties at Diamond Creek Farm, Pennsylvania on a high, winning the $340,000 2020 TVG Final in 1:48.2 at his final start.
In total Bettor's Wish won $2,781,240. He won 24 races and was in the first three in 41 of his 44 starts.
He won 12 races in sub-1:50, with 9 of these wins being in 1:49 or better.
He took a mark of 1:51.2 as a two-year-old (where he won over $270,000), 1:47.8 as a three-year-old and 1:47.6 as a four-year-old.
Following his final victory, Dexter Dunn, his regular driver for the majority of his career, said, "I barely asked him tonight, to be honest."
"It was all him. It's been him his whole career. He's a true racehorse.
"It was a special feeling crossing the line with him tonight. He's been an amazing horse to me."
Earlier Dunn had said "His attitude is amazing and makes my job easy because he's so versatile. It's not an easy move [from ages 3 to 4], but you know he's going to go out there and give you 100 percent."
For trainer Chris Ryder, Bettors Wish was not only one of the best racehorses he has trained, he was so much more.
"He's part of the family. He's a beautiful horse to have around the barn. He's never any trouble, always does everything right. He's been a real gift," said Ryder.
"What do you say? He shows up every week. He's a horse of a lifetime."
Bettor's Wish possesses an impeccable pedigree that really complements Australasian pedigrees. He is of course by Bettor's Delight and out of the Western Ideal mare Lifetime Star.
His second dam is a half-sister to top class sire American Ideal, so this is a first-class family.
Bettor's Wish will stand at Alabar NZ and will be serving a strictly limited book.
Graeme Henley from Alabar NZ is thrilled to be standing Bettor's Wish.
"He's a champion horse and one with a strong Kiwi connection having been trained by Chris Ryder and being the horse that set Dexter on his way in North America. We're rapt to be able to continue that connection. He'll only be able to serve a limited book so he presents an exclusive option for commercial breeders. There's no doubt he'll quickly reach the booking limit set by his owners so breeders should contact us as soon as possible"
To discuss your mating plans and secure your booking please get in contact with Alabar.