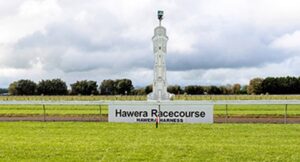 BOULTING IN THE BREEDING BARN 
By Duane Ranger
Oxford breeder, Michele McDonald, racked up her third career win at Hawera last Friday (February 4) – and all three breeding victories have come via Boulton Home (Prodigal Seelster – Lordship's Falcon – Falcon Seelster).
"I've been around horses all my life but only started breeding when my father (Bernard) bred from the mare before me after originally getting her from his brother, My Uncle Bill – of Starship and Anvil Star fame. David (McDonald) also bred from her," said Ms McDonald, who is also known as Michele Jarvis.
"Boulton Home is related to them both," she added.
She explained that in order to keep the progeny in the family Uncle Bill insisted any horses bred from the mare be bred by a McDonald
"He was very staunch about that," the retired North Canterbury resident said.
The broodmare was the 1998 Falcon Seelster – Venetian Star (by Lordship) three-win pacer, Lordship's Falcon.
She left 10 foals for the McDonalds between 2004 and 2016 – the best of them foal number two – the Badlands Hanover mare, Crystal Star, who won 11 of her 40 starts and $148,406, including the Group Three 4yo Championship at Forbury Park in 2010.
"We actually paid $9,000 to Uncle Bill for Crystal Star at the 2007 yearling Sales. We liked her and wanted to keep her in the family.
"She is now owned by Glenferrie Farms and left a 2013 Art Major mare named Crystal Caprice (two starts for one third).
Foal number nine, Boulton Home, with three wins, is now the second most successful foal out of Lordship's Falcon.
"He's only a little horse, but we thought he might go all right at Hawera because he likes the grass. He's also quite a tough little horse.
"The only other horse we have out of the mare is the foal after Boulton Home, Olivia's Star. She's a 5-year-old full sister (Prodigal Seelster) to him. She's a lot bigger than him and goes okay too. She's not far from qualifying," Ms McDonald said.
Both pacers are trained by Michael House.
"My partner, Lindsay (Boulton) does all the prep work with the horses and then sends them to Michael for fine tuning. Lindsay has been Michael's transport driver for years. In fact, he's got 17 on this trip. It's something Lindsay has always done, with training on the side.
"We both came to Hawera this time," Ms McDonald said.
She admitted that she never really ventured into harness racing until her mother passed away.
"Dad gave the horses away not long after and then when he became unwell, we decided to get him back into standardbreds again to keep him busy and his mind on other things.
"That's when I got involved. The McDonalds are a well know Canterbury harness racing family as are my other relations, the Yeatmans.
"I've always enjoyed the industry but only really got into it because of my father and my partner, Lindsay."
Ms McDonald did however fondly remember the days of Starship and Anvil's Star.
Starship (Lordship – Star Nurse) the 1984 entire who won 16 races and $341,975, including the 1989 Ashburton Flying Stakes, the 1991 Kaikoura Cup, and ran second to Neroship in the 1990 New Zealand Cup.
Star Nurse is the grand-dam of Lordship's Falcon.
Her mother Venetian Star also left Anvil's Star, the 1991 Vance Hanover pacer, who was also a Group winner having nailed 15 victories and $444,705.
Anvil's Star was the first foal. Lordship's Falcon was the eighth of 13 foals left by the mare.
Ms McDonald and Mr Boulton live on a lifestyle block in Oxford.