Breeder hoping for trans-Tasman spin-off
14 January, 2021
By Dave Di Somma, HRNZ
A Group One victory at one of Victoria's biggest nights of racing has been hailed as a victory for the small-time breeder.
Canterbury breeder Grant Beckett was overjoyed when Keayang Livana won the 4YO Trotting mares feature at Tabcorp Park Melton on Vicbred Super series grand final night because he stands her sire Imperial Count at stud.
"She's always shown a lot of ability, and it shows you can produce Group One winners without having to spend a lot of money," says Beckett, who runs Phoebe Standardbreds at Broadfield, just out of Christchurch. The stud was named after Phoebe, an area of farmland in North Canterbury where the Becketts have farmed for four generations.
He's hoping Keayang Livana's success – she's won 10 from 21 starts – will translate into increased interest and business coming his way.
"Certainly there's been a lot of feedback."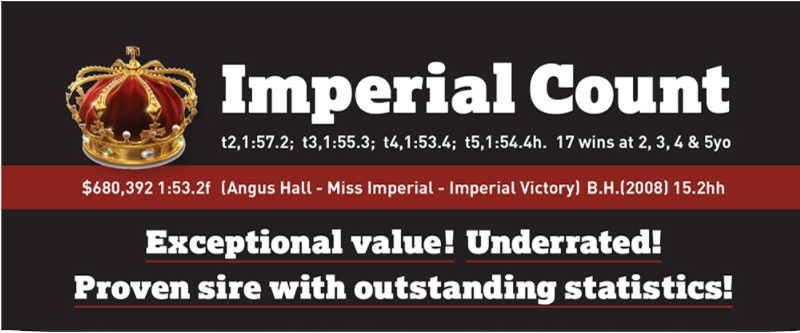 Standing for $1500, Imperial Count is one of three stallions at the stud, along with Royal Aspirations and Locharburn. By Angus Hall out of Miss Imperial, Imperial Count won 17 in North America (2010-15) before embarking on his stud career.
"Imperial Count came to New Zealand for a year then had three seasons in Australia and then came back."
"He has served 20 mares this season but it's still disappointing that he can't attract bigger numbers."
Keayang Livana was not bred here. Out of an unraced Sundon mare Poignant she was foaled in Victoria in October 2015.
Her win in the Vicbred super series on New Year's Eve took her earnings over $130,000 and was Imperial Count's first Group One success as a sire.
Among other Imperial Count progeny to have excelled are Monaro Mia (13 wins, $AUD180,302) , Imperial Whiz (17 wins, $AUD168,532) and Phoebe Imperial, who's trained by Nicky Chilcott. He's won six from 34, his latest win being at Cambridge on Christmas Eve.
"We have to celebrate success," says Beckett, who's realistic about where he stands compared to breeding heavyweights like Alabar, Woodlands Stud and Nevele R.
"We have a role to play, and it is at the bottom end of the market."
Beckett estimates that horses bred by Phoebe Stud have won over 170 races over the years and he has no doubts as to the race he'd like to win more than any other.
"Some trotting breeders look at the Dominion but for me it's the Rowe Cup, who knows, but that would be a big one for me."
"I've got six years to do something with her I guess."