Breeding experience will stand Woodham in good stead
19 January, 2021
By Frank Marrion, courtesy of HarnessXpress
The richly-bred filly Off N Gone provided the star turn at the Nelson meeting by winning impressively both days.
She had no favours with the barrier draws but Tim Williams drove her confidently and as if she was the best, and so she comfortably proved.
This would have put new Harness Racing NZ CEO Gary Woodham in a good frame of mind given the uncertainly of the daughter of Somebeachsomewhere coming back from a wind operation.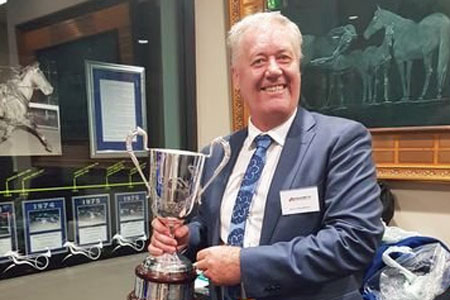 Woodham started his new job on Monday last week although he has been 'at work' for some months, trekking around the traps since his appointment to introduce himself to clubs and committee people.
He has quickly familiarised himself with the many issues facing the industry and now it is time to role up the sleeves with new Board chairman John Coulam and head in a new and hopefully better direction now that HRNZ has more responsibility for running the code.
Woodham has had a lot of success in recent years as a part-owner of colts like Miracle Mile winner Spankem, Cash N Flow, Another Masterpiece and South Coast Arden, but he bred Off N Gone in partnership with good friend Brent Williams and that on-going experience is going to prove invaluable in his new position as well.
Woodham is a lot like most other industry participants in that he was hooked at an early age, by being at the races, in his case by Robalan skying away with the 1974 New Zealand Cup.
"I bunked school that day with my brother and ran into one of my teachers, but neither of us said another word about that," said Woodham.
"In those days us kids would also gather up all the losing tickets and wait for the paper the next day to check if any were any good."
Woodham had an interest in his first horse at the age of 18 and had his first big win as a member of the syndicate which raced Pathfinder, a son of Locarno who won the 1986 Superstars 4yo Championship for Robin Butt.
There were others along the way, but Woodham got decidedly more serious in 2011 when he went looking for a filly at the yearling sales with an eye to a future broodmare.
"I sorted out half a dozen with the right sort of pedigree and had Andrew Grierson look at them for conformation and so forth, and he recommended Kabet."
She was a Bettor's Delight filly from Spring Thaw, by Falcon Seelster from Tuapeka Frost, by Vance Hanover from Sakuntala.
At that point, Spring Thaw had produced a good mare in Talaspring, a winner of six races here and 13 more in Australia for stakes worth $194,000.
She won a G3 Ladyship Cup at Melton but died before producing any foals.
Kabet was a little on the small side and Woodham got her for $25,000, taking in former Christchurch neighbour Williams along with Marty and Shirley Cummings.
He was involved with the latter couple around the same time racing the likes of Lovetodream and Jumbo Jet, foals from the Cummings' good mare Sue Dreamer.
Kabet proved to be a very smart filly and won a maiden race as a two-year-old at Addington with Williams' son Tim driving right through as a junior.
The following November she won on Show Day and a Sires Stakes heat at Addington.
She was out of luck in Auckland over Christmas but won a Nevele R Fillies heat at Addington, beating Safedra, and a mile at Winton in 1.56.
A few weeks later Kabet went a quite spectacular race to win at Ascot Park, coming from last on the turn to bolt in over 2700m.
"That was a funny race for us as we also had Better Than Money in it and she led and finished last, while Kabet went from last to first."
Kabet was then sent out favourite for the Southland Oaks but was out of luck in finishing fifth to Safedra, while she had her last two races when unplaced in the Fillies Final and fifth in the New Zealand Oaks, by won by Adore Me.
She then suffered a tendon injury, with "a hole the size of a 50 cent piece", and was bred that year to Christian Cullen, but missed.
Buoyed by that success at the sales, Woodham was back in 2014 and bought Cash N Flow in Auckland after he'd been passed in with a reserve of $20,000.
"Initially I went 50/50 with Tim when he was doing a bit of training in Southland, but then he moved to a job with the All Stars and Mark bought his share, later selling it to Warren Pengelly and Fred Tong.
"He has been easily my most successful purchase at the sales."
With his other top performers headed by Spankem, Woodham has simply joined the party after they were purchased by Phil Kennard or the All Stars.
Cash N Flow won a race for two-year-old maidens at Addington and a week later finished fourth in the Sales race won by Lazarus.
He was also fourth in Lazarus' Sires Stakes Final and later won an Uncut Gems at four.
But it had been an injury interrupted career and when Cash N Flow departed for Australia at the end of his five-year-old season, in July, 2018, he had raced just the 20 times for 10 wins and $127,000.
He has now won 32 races and $548,000 for Woodham, Wong and Pengelly, proving the 'monster of Menangle' last year, with 12 straight wins, seven in under 1.50 and the other five in 1.50.6 or better.
Along the way, Kabet was also proving to be a very good broodmare.
Her first foal in the Mach Three filly Take A Bet had three straight wins for Geoff Dunn as a three-year-old before suffering the same tendon injury as her dam.
She was then sold as a broodmare to Alabar, who got an Art Major filly this season.
"Alabar offered us a deal we couldn't refuse and we knew at that point that we probably had a better filly from Kabet in Off N Gone.
In between Kabet had produced Above N Beyond, an Art Major colt who went through the sales and was bought by Robert Dunn's good stable client Ross Gordon for $80,000.
He is also a good horse and is due back shortly after having some knee and hock niggles.
Off N Gone was offered at the sales but was passed in for $50,000 at a point when buyers had already gone off the Somebeachsomewhere's, as was another Art Major colt in Over N Above last year.
He is having a spell after two preps with the Dunns and is a possibility to make a late two-year-old.
Kabet has produced two more fillies by Art Major with the first in the upcoming sales, while she is now in foal to Captain Crunch.
Off N Gone was tracking well when she won two races at Addington in the spring as she headed towards the Sales race for fillies in early October.
But her form went from just fair to bad to worse in her next three races before it was discovered she had a wind affliction and needed a soft palate operation.
"She wasn't making any noises after the Sales race, but when she collapsed in a race at Rangiora six weeks later, clearly something wasn't right and a vet just happened to be on hand."
That was Sam Taylor and after a minor operation and a few weeks to recover, Off N Gone was back in work and set for Nelson, where her form was a relief as much as anything.
"She stayed with the Dunn team up there rather than coming home by herself and everything is geared towards having her cherry ripe for the Sales race at Addington on February 12."
So on the face of it, it would seem that Woodham's first venture into the realms of breeding has been a relatively successful one.
He is breeding from a good mare and her first three foals have been good horses, with one if not two a good sale.
But of course there's also a lot of costs along the way and you need that sort of success just to keep one's head above the water.
In that respect the experience will stand Woodham in good stead as he looks to tackle the many, varied and mounting issues this industry is facing these days.