Brent Smith's kind gestures reaping rewards for others
By Duane Ranger
The breeder of New Zealand Cup third favourite, B D Joe, has a big heart.
Otautau-based Brent Smith, the former Riccarton Park Functions Manager for 32 years, said he gave away Kaikoura trot first starter Create Time winner to West Melton horseman, Ken Barron, on the day of the 2021 National Yearling Sale in Christchurch.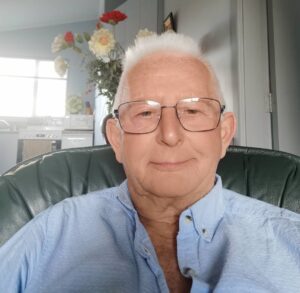 "I've been breeding for more than 40 years now and have soon learnt that if you can't help someone else out then you might as well not be in the game," said Smith, who bred Create Time.
The impressive youngster won on debut at the South Bay Racecourse – the RD Petroleum Trot and then repeated on Cup Day winning the $32,000 Avon City Ford Trot..
Deep-down Smith was crushed that his 3-year-old Creatine – Delestic (Majestic Son) colt had been given the red-card a day before Sales were scheduled to start.
"I was hurt, because he was withdrawn late due to a swollen knee. I had put so much time and money into the horse and felt deflated and disappointed. Then later on at the Sale Ken came up to me and said the horse could still race with that chip bone, and he could take it off my hands.
"I thought, why not, he's a trop trainer and horseman, and he will get the best out of the horse. Then I thought of all the costs ahead of me like $3,000 to get the chip removed, then I would have had to geld him, then training and more vetting fees, and I thought – just have him. So, I gave him away," Smith said.
"I was a bit distraught at the time," the 72-year-old added.
That was February 21, 2021. Fast Forward two years, eight months, and nine days, and Create Time has his first win.  He had previously won his four workouts and trials at Rangiora and Chertsey from April 5 to October 25
"Ken has done an absolutely brilliant job with him. I always believed in the family. A bit of thought went into his breeding.
I have no animosity with anyone. I wish the new owners all the very best. I hope he progresses through to the open ranks," Smith said.
Those owners are Barron, Mrs A R Pearce, D J Pearce, P J Witsey, B M Leonard, and J M Howe. Blair Orange did the driving for Barron.
But Smith's kindness doesn't stop there. He recently gave Create Time's dam (Delestic) away for a year, so Sheree McIntyre could breed from her at Macca Lodge.
McIntyre said she would be putting Delestic to En Solitaire.
Smith said he bought Delestic (2012 Majestic Son – Delcola – Chiola Cola three-win mare) in 2019 after she had her last race in the North Island for Scott Dickson in November 2018.
"I tried buying Delestic for $6,000 when she was being trained by Nathan Williamson, but I missed out on her, and then Mr Dickson bought her two months later.
"Then after three unsuccessful starts in the North Island (9th, 8th, 12th) I made another offer of $1,500.
"Within half an hour the owners rang me back and said $1,600, and I said okay. I liked the Ian Hunter-bred family because the dam side went back through Delcola and Aaron Del.
"I put Delestic straight to Creatine – and Create Time was born on December 4, 2019. I really like the way he won on both occasions. I think the owners are going to have a lot of fun with him," Smith said.
Delestic has also left a Volstead yearling colt named B D Voltic and a Marcoola weanling filly named B K Coola.
"I sold the yearling at this year's Sale in Christchurch to Clover Park Bloodstock for $18,000, and I've only seen the weanling once, but she's due to be back in work shortly. I'll keep her for racing and breeding," Smith said.
He said Splash Cola (2010 Sundon – Delcola – Chiola Cola mare) enticed him into the family.
"She won 13 races ($140,776) and was a Group Three winner (2020 Summer Trotting Free-For-For. I tried to do a bit of homework when working out my crosses with Delestic, and I'm pleased I went to Creatine, Volstead, and Marcoola. The latter is a grandson of the legendary Lyell Creek, so there's strong trotting blood on both sides," Smith said.
And speaking of strong standardbred blood, Smith said he was looking forward to watching his pride and joy, B D Joe (1.52.6) competes in this year's New Zealand Cup.
"I was in Thailand last year and am looking forward to watching him live this year," Smith said.
Smith sold the Steve and Amanda Telfer trained, B D Joe (5-year-old Roll With Joe – Tact Aunty – Christian Cullen 14-win ($423,841) gelding) sold him to Stonewall Stud at the 2019 Yearling Sales in Christchurch.
"He was a lovely looking colt. I actually cried when I sold him because I only had a reserve of $15,000 on him and I got $65,000. I couldn't believe it; I was over the moon.
"I still have no regrets selling. I get so much enjoyment watching him go around. I wish the owners nothing but good luck and success. They are doing so well with him," Smith said.
Smith was born in Christchurch and educated at Christchurch Boys High School. He lived in that city up until five years ago.
"I sold my house in Christchurch within a week and before I know it, I'm living in a beautiful cottage and farm here in Southland. I've got horses and sheep and to be honest wouldn't want it any other way," Smith said.
He said he got the racing bug from his father.
"My Dad was a dollar punter and I started to get into racing when I was 14 and 15 and have had a keen interest since. I've owned a horse or two over the years and didn't get into breeding until my early 30s.
"I still can't believe I've bred a New Zealand Cup starter. This is every breeder's dream. I'm very excited. It's all a bit surreal," Smith said.
"It's also very satisfying that I am also breeding from a lovely trotting mare, who has now produced a two-start, two time winner from her first foal," he added,