Curtain falls on Washington VC's Stellar Stud Career
By Frank Marrion
23 October 2020
Keith Norman has decided to call time on the stud career of Washington VC.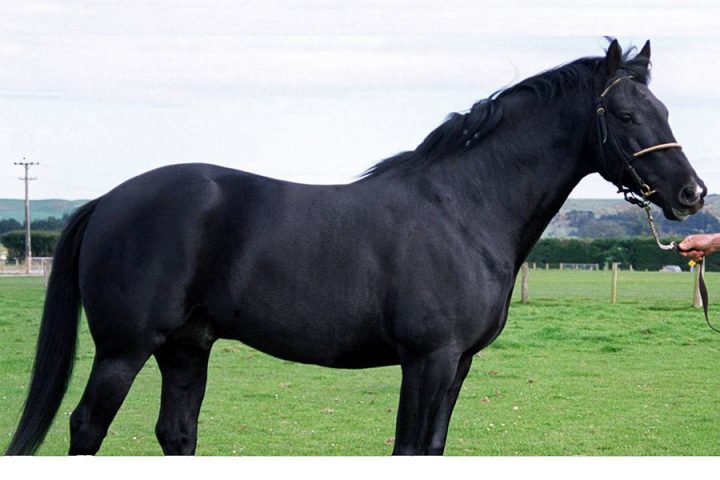 Nothing has actually changed much with the now 25-year-old son of Presidential Ball, but after 20 seasons of stud work, Norman has reached a point where he wants to do something different himself.
"He's had a bad back for the last four years and I haven't been advertising him in that time in order to keep his numbers down, but I think he has now earned his retirement," said Norman.
"He did pretty well last season actually, getting 22 of 29 mares in foal.
"But I want to try my hand at racing and selling a few horses instead and I have four yearlings by him which will keep me occupied for a while.
"I'll be breeding my own mares (to other sires) but I won't be doing any outside mares.
"If I did that would mean I would be doing another season of foaling mares next year.
"Getting mares in foal is relatively easy, but foaling them is the hard part.
"I'd like to spend my spring and summer months focused on training horses instead of all the stud work."
Washington VC was owned by a syndicate of Southland breeders outside of Canterbury's Brian West.
Norman can recall asking New Jersey's Bruce Kennedy, the agent for many of Nevele R's stallions in those earlier years, to keep a lookout for a stallion for him.
"I wanted a smallish horse rather than a big one and he had to have won a big race.
"I must have been offered 50 stallions, but Washington VC was the only one that ticked all the boxes for me."
Washington VC had been injured and was spelling as a three-year-old when Norman acquired him.
A black horse standing 15.1 hands, Washington VC was a good two-year-old and had come back at three to win the Adios, winning eight of his 30 races and $561,000 in all.
He got good support from the start and covered well over 100 mares in eight of his first nine seasons at stud, doing 195 and 186 in two of those years.
But Washington VC's fertility was a bit of an issue and after 10 seasons of doing transported semen, Norman had had enough and made him an on farm stallion only.
"He was never the most fertile horse and it was hard work in those days getting to the airport with semen by 7.30am.
"Some off farms mares could be served four times and still come up empty and that wasn't very fair on those people, plus all that was costing us time and money."
Washington VC continued to receive solid support from mainly Southland breeders, largely because his progeny were so popular with Australian buyers.
"You couldn't take one by him to the trials or even the workouts without someone ringing up asking if they were for sale."
Invariably those calls were coming from Perth.
Washington VC's crowning glory was (Im) Themightyquinn, a winner of 58 races from 111 starts and over $4.5m in stakes.
Most of his racing was done at Gloucester Park where he swept through the Inter Dominions unbeaten in 2012.
Either side of that season he won the Inter Dominion in Auckland following the disqualification of Smoken Up and at Menangle for a three-peat, while he also won two Auckland Cups, three WA Pacing Cups and three Fremantle Cups amongst 14 Group 1 wins.
It was Norman himself who bred Washington VC's other top WA son (Im) Victorious, who won 22 of 33 races and $752,000, including the WA Derby, Golden Nugget and Fremantle Cup, before venturing to Menangle for the Inter Dominion won by (Im) Themightyquinn.
He suffered a sliced tendon in a racing accident there and did not race again however.
"Victorious was on the way up when Themightyquinn was coming to the end of it and he would have won millions as well."
Then there was the top filly Foreal, the dam of Field Marshal, along with the likes of the West-bred Report For Duty, Dasher VC, Hokonui Ben and Georgetown, all winners of over $600,000.
Other fine performers sired by Washington VC included It's Ella, Letspendanitetogetha, Glencoe VC and Vice Chairman, the latter also bred by Norman.
"He won seven races for me in one season from Peter Bagrie's stable and still holds the mile record at Addington at 1.51.9."
That night was a very rare mile at Addington when Dexter Dunn drove Vice Chairman to beat Tiger Tara, Johny Rock and Saveapatrol.
Mostly Washington VC was renowned for consistently producing a lot of really nice, genuine horses which earned him the respect and admiration of horsemen.
He goes into retirement having covered a total of 1952 mares for around 1160 foals, while recently going past 400 winners, with one of the latest good ones being the Norman-bred Eureka.
Keith Norman has done very little training over the years and has won just the one race with Holmes Dean in 2006 since the 70s, when as a junior driver he often handled the rugged open class pacer Majestic Charger for brother Les Norman.
Keith drove him to win a FFA over a mile at Addington in 1976 when he downed Steven Stock and Kintara.
But it seems Norman is now going to be enjoying training winners in his twilight years rather than just breeding and producing a lot of them.