Fahys enjoy big day out at Winton
16 May 2021
By Jonny Turner
The quinella of Rakanotta and Rakareplay at Winton on Saturday provided a big thrill for Southland breeder-owner Brendon Fahy.
Rakanotta became the first winner for her Group One performing dam Raksdeal when clearing out for a big debut win over her stablemate and relative Rakareplay when scoring by three lengths for trainer-driver Peter Hunter.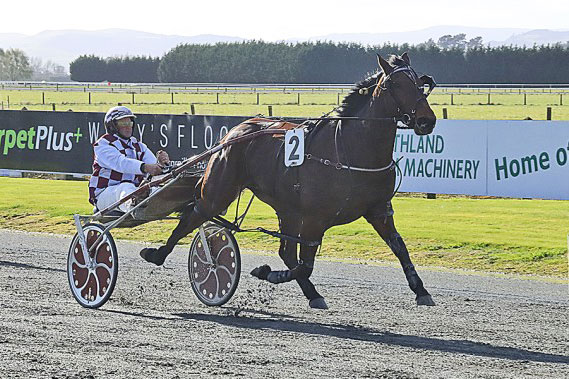 After Hunter landed the three-year-old a perfect run in the one-one, race 2 could not have worked out any better for Fahy and Rakanotta.
But the filly's journey to the races has been the complete opposite.
"It has basically been a disaster, up until today," Fahy said.
"She would have qualified at two, but the COVID came and that was the end of that."
"So we got her back this year and we had her ready to go and she had a hell of a cough and she was out for six weeks."
"She came back in and things haven't been plain sailing again and we sort of had to rush her to get her there today."
Fahy is a stalwart of the Southland breeding industry and looks to have a fantastic broodmare proposition in Rakanotta given her dam's pedigree and that she is by Somebeachsomewhere.
But for the first few weeks of her life, it did not look like she would be leaving any foals at any time.
Fahy sent Raksdeal to Canterbury to access Somebeachsomewhere and months later received a call today he had a beautiful looking colt.
However, when the mare and foal arrived at home it became quite obvious that the foal was a filly.
And that is why Fahy named her Rakanotta – as she is not a colt.
Rakareplay looks to be closing in on a win after sweeping down the outer in a big effort for second behind her stablemate.
Both Rakanotta and Rakareplay descend from Fahy's foundation broodmare, Sentimental Belle.
"They are both big horses, Pete reckons Rakanotta is the biggest horse he has ever trained," Fahy said.
"I was disappointed with Rakareplay last time, she get all worked up and sweated up before the races."
"But she went really good today, we were rapt."
Though he has had winning doubles at the races before, Fahy hadn't produced a race quinella in his more than forty years in harness racing.
The Fahy family had even more to celebrate on Saturday night thanks to the win of Onedin Hurricane in the next race.
Fahy's brother, Keiran, also enjoyed success at Winton when the Clark Barron trained pacer broke through for a deserved maiden win.
"It has happened before, I said after my horse won I bet Keiran's horse will win now," Fahy said.
Saturday's meeting featured the winning Southland swansong of leading three-year-old Ragazzo Mach.
The Nathan Williamson trained pacer will now head to Cambridge for the Harness Jewels and then on to Australia.