Patience rewarded with giant trotter
18 June 2021
By Dave Di Somma, HRNZ
In all his years in the game Bruce Negus has never trained a horse the size of Moment of Kaos.
"He's the biggest horse I'd ever seen," says the Burnham-based Negus, "he's 18 hands…. he's a big friendly giant."
And the eight-year-old is now a race winner after taking out the Airpark Canterbury Trot at Addington last night for driver Jessica Young-Grant. The win coming at his 15th attempt, and after two seconds from his previous four starts.
"I call him The Monster," says Robert Hanna, who co-owns the horse with his mate Denis Mills, "I thought he'd win a race and you have to be patient, but it was a great thrill to win at Addington."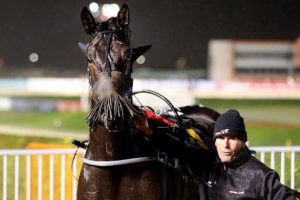 That's because Hanna is one of the track staff at Addington, and, after owing horses for around forty years, it's his first win there.
And patience is a key part of the Moment of Kaos' story.
Hanna bought the horse for $800 three years ago after seeing it at the workouts.
It was then revealed that it had quarter cracks so it was turned out at Hanna's property at Sefton in North Canterbury.
Two and a half years later they thought they better do something with the horse and it went to Negus about three months ago. It then ran third in his "debut" at Methven on April 26 behind Crème De La Crème and Tom Brady.
Remarkably that placing came more than three years after his previous race day appearance. He had had five unplaced runs for trainer John "Coaster" Howe between January 2017 and April 2018.
Now eight, "Kaos" does have some breeding on his side. His mother Just a Moment is a half-sister to millionaire trotter Take A Moment (39 wins from 67 starts).
Last night's win came at start number ten for Negus.
"He found the line good," says Negus, "he's eight but he might get better yet."
"We're hoping he's not finished ," says Hanna.
Negus plans to race him next in a junior driver race and then take him south for Forbury Park's last race meeting on July 8.
"I'll be taking a full truck," says Negus, "I have a lot of good memories of racing there and it should be a good night."