Gold Chain gunning for Group One glory
15 June 2021
By Michael Guerin
New Zealand's most improved trotter, and surprising racing mum, is chasing Group One glory in Queensland.
Gold Chain is part of the Kiwi team for the rich winter carnival made up of such superstar names as Copy That, Krug and Amazing Dream, all of whom flew from Auckland to Brisbane last week.
While the three big pacing names have races such as The Rising Sun, Blacks A Fake and the Queensland Derby to chase, Gold Chain's goals are more modest in terms of stakes.
She will contest two heats of a series with a A$50,000 standing start final on July 17 before the A$50,000 Queensland Trotters Cup on July 24, both at Albion Park.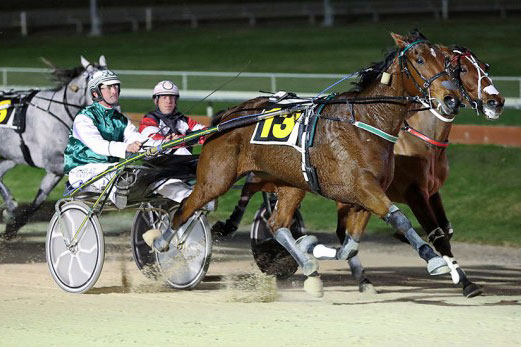 "She is going there to try and get a Group One," says Butt.
"At this stage she is probably not going to win one here against the like of Sundees Son and Bolt For Brilliance but she maybe can over there.
"We know they are only $50k but they are still Group Ones and the trip away won't do her any harm."
Gold Chain left New Zealand having gone from maiden at the start of this season to an open class mare, and even rarer than that, a Mum.
While the daughter of sire sensation Muscle Hill is still only a six-year-old she has a yearling colt named Gold Bullion after being put in foal during an injury break in her career.
Owned by Butt's grandfather Robin, she must now be on the short list for trotting mare of the year and a Group One in Australia could even seal that deal for her in a year that has seen few open class trotting mares race with great success.
Butt won't join Gold Chain in Queensland for around 12 days, with the mare being caretaker trained in that time by Gemma Hewitt, who does a great job with her small team trained outside Bathurst but will be taking a team north to Queensland.
"I will go across and look after her close to her first race and drive her in the two big ones." Butt's other top trotter, the New Zealand Free-For-All winner Heavyweight Hero, is back and work and like many of the open class stars going through the long yards of winter prep work.