Gourdie delighted for Dalgetys & owner of Darby O'Gill
By Duane Ranger
Renowned trotting breeder, Mike Gourdie, has bred a 3-year-old debutant pacing winner at Addington Raceway two years (to the month) after he thought he had seen Darby O'Gill for the last time.
"I only found out the horse was at Cran and Chrissie Dalgety's (West Melton) stable about 10 months ago. I was pleasantly surprised because I thought I sold him to Australia, but the owners must have left the horse here," said Gourdie, who owns the Regency Wools company that bred Darby O'Gill.
The Dalgety husband and wife duo trained Darby O'Gill to win first-up at Addington with an impressive 1:58.3 mile rate and home in 56.2 and 27.9.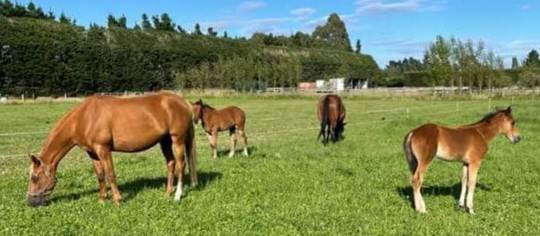 The black Rocknroll Heaven – Harper (Art Major) gelding, who was driven by the Dalgety couple's son Carter, shot up the passing lane and won, under a hold, by three-quarters of a length.
"That was outstanding – every breeder's dream to breed a 3-year-old to win their first start at harness racing headquarters.
"He has a nice way of going, and he won virtually untouched for Carter. His gait was actually reinforced by Peter Lagan, who saw him early on. That means a lot – but it's very true. Darby O'Gill is a promising pacer," Gourdie said.
Gourdie received $13,000 for Darby O'Gill from 'Montcalier' (J.A. Gregg – Queensland) at the 2021 National Yearling Sale in Christchurch.
"I'm rapt for the owners and the Dalgety family because I think he will win more races. That's why I enjoy breeding. You can put smiles on many faces," said Mike.
"He's up and running now, which is a relief because he's the only foal left out of the mare – and that in itself is a sad story," he added.
Harper ran into the branch of a tree and lost her eye not long after Gourdie purchased her at a Mixed Age Sale in 2015. She was in foal to McArdle.
"Then her other eye started to deteriorate, and she could only partially see out of it. When she eventually became fully blind I had to do the right thing and put her down.
"On hindsight I would still have loved to breed on from her, but even after Darby O Gill's impressive first-up win, I know I did the right thing. A blind horse just isn't fair on the animal," Gourdie said.
He said the 2015 McArdle gelding named Grandad was no good, while the only other foal, the 2017 A Rocknroll Dance colt, Bow Street, didn't race due to bone chips.
"I actually entered Bow Street in the 2019 Yearling Sale in Auckland, but because of bone chips I withdrew him.
"I wouldn't put anything through any Sale that I wouldn't buy myself. It's a conscience thing. The industry deserves the best.
"The mare was a shy breeder, so we only tried to get foals out of her every second year. Sadly, Darby O'Gill is the last of the breed, but the family is rich in quality pacing blood," the St. Bedes College old boy said.
He said Darby O'Gill's grand-dam Lil's Dream (1997 Smooth Fella – Miss Denover – Boyden Hanover mare), won four races, and was a grand-daughter of the 1968 Armbro Del – Trixie Milne – Gratton Loyal eight-win mare, Ar Miss.
"Ar Miss left Armalight (1976 Timely Knight – Good Time 18-win mare), She won the 1981 New Zealand Cup and more than $270,000."
Gourdie has worked in the wool industry for 49 years, and has been breeding standardbreds for 39 years.
The first horse he bred (with family) was the 1984 Locarno – Arana(Aran) Hill – Lord Pelser gelding, Gee Force, and the best he's bred was Mach Alert (2007 Mach Three – Justalert – Fake Left) entire.
"Gee Force was no good and never made it to the races, but Mach Alert was very good. My best so far," Gourdie said.
Mach Alert placed in one of his three starts in New Zealand before he was sold to Australia in November 2010.
Mach Alert then went on to win 37 races and $654,801 across the ditch.
"He won two Group Ones – the 2011 Queensland Pacing Derby (Albion Park), and 2013 The Coca Cola Sprint (Menangle) and placed in many others.
"Mach Alert also won the Group Two 2011 Premiers Cup (Albion Park) and also competed in the Interdominion (Menangle) over there.
"He was the third (of eight foals) out of my five win-mare, Justalert (1999 Fake Left – Calcutta Lass – Alba Counsel)."
Gourdie's Regency Wools had three yearlings lining up at the National Sale in Christchurch on Monday.
"I had four in but again my conscience got the better of me and I pulled one out (because of bone chips). I'm quite confident about the other three, not only because they are healthy and look good, but they come from solid families."
Mike's three yearlings in the sale all have strong connections to his breed.
"The What The Hill – Avalanche Peak (Peak) colt name Noelsie is a sentimental sale because I named the horse after my late brother-in-law Noel (Hickland), who passed away 12 months ago. This is Avalanche Peak's first foal." The colt sold to Ashburton's John Hay for $14,000
My Lady Castleton, a Muscle Mass – Castleton's Jewel (Sundon) filly from a family that have won a lot of races on both sides of the Tasman was passed in. The mare, Castleton's Jewel is a full sister to the best horse Gourdie has bred – Castleton's Mission.
Finally, the filly County Down Girl, Volstead – The Bog (Monarchy) filly. She sold for $10,000.
"I raced The Bog, which I named after the best Irish pub in Christchurch. She won seven races and more than $50,000, and this is her fourth foal and first filly. She has 2-year-old written all over her."
Gourdie, who maintained the NZ Standardbred Breeders Sires Book for nine years till 2006, has specialized in the wool industry for almost half a century.
He is a commercial manager for the New Zealand Merino Company, and has been at the helm of Regency Wools for 25 years.
He also served on both the New Zealand and Canterbury Standardbred Breeders Associations – both as president, was a trustee of the NZ Trotters Trust, committee member of the Caduceus Club and Akaroa Trotting Club and initiator of the NZ Trotting Oaks and 4YO NZ Trotters Championship.
"It's been a rewarding association with the wider industry and I am very hopeful that the recent changes made to incorporate more black print opportunities for trotters, particularly the fillies and mares bears fruit for future breeders. The industry definitely needs a shot in the arm that's for sure," Gourdie said.