Heather Williams – Obituary
27 November 2020
Well known and highly successful breeder Heather Williams' life will be celebrated at a special service next week, following her death after a short illness.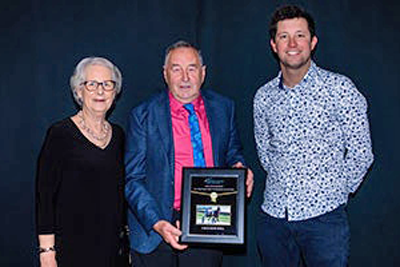 Heather and Lex Williams, who married in 1970, bred nearly 80 horses and will forever be associated with their millionaire trotting mare One Over Kenny.
Heather was once quoted: "We love racing and follow our horses whenever they are racing but equally we love breeding. Horses here become like part of the family, well loved and cared for."
In another interview Lex talked about her gift with animals. "She's a good stock lady. She was a good trainer of dogs and became very very good at handling the foals. In the last few years we never had to break them because they were so quiet. She said there's got to be an easier way than tying them up and having flank ropes on them so she read the Horse Whispers books. You have to start on them (the foals) when they're very young. It became a trust thing between her and the foals. We got a lot of accolades from the trainers who said our horses were so easy to break in."
Lex and Heather initially farmed at Lawrence in Otago before moving north to Waimate where they spent nearly 40 years running an award-winning sheep and beef farm. They also ran a movie theatre in Waimate and leased the opera house in Oamaru for 10 years before building a three-cinema complex there.
It was Heather's urgings that ultimately helped snare One Over Kenny at auction.
Lex takes up the story : "(Trainer)Phil Williamson sorted One Over Kenny out – $20,000 was our budget. We got to twenty and the auctioneer said he'd take a half ($500) but he took a $1,000 from the next bidder. When the sales staff went to get the buyer's signature he said oh no it was only twenty and a half."
The auctioneer then decided to bring the yearling back into the ring three lots later.
"Heather said 'why you don't put in another bid.' The other guy went to twenty and half and I went to twenty one. He said bugger you and pulled out and they knocked her down to me."
One Over Kenny went to win 32 races and over a million dollars, including seventeen Group or listed races!
One Over Kenny and In the Pocket pacing mare Fleet's Pocket have been the mainstays of their breeding operation, with most of their horses having "One" or "Flying" in their names.
One Over Da Moon (Majestic Son – One Over Kenny) was another stand-out with 22 wins.
Finalists for Breeder of the Year at this year's Harness Racing New Zealand awards, they bred both Cracker Hill (7 wins – 16 starts – $133,230) and Ultimate Stride (9 wins – 16 starts, $180,268) who were the joint winners of last season's 3-year-old trotting colt or gelding of the year.
They also bred and have a share in Group and listed 8-win trotter One Apollo. Both the sire One Over Da Moon and dam Anna Castleton were also bred by the Williams. They were also the breeders of the first stakes winner of Muscle Hill in New Zealand, One Muscle Hill.
Among their horses have been Flying Heathers One, Heather Castleton and Flying Mrs Williams.
Brad Reid, New Zealand Standardbred Breeders' Association Executive Manager : "I was lucky enough to visit their farm a few years ago and their attention to detail was evident, and no doubt Heather was instrumental in a lot of that. I'm sure Lex won't mind me saying that Heather was a hard task master, but she had a heart of gold and loved her horses.
"Lex and Heather have an unbelievable knack for whatever they touch turning to gold and have achieved remarkable success as owners and breeders of horses in both gaits.
Heather Williams was 69.
A service to celebrate Heather's life will be held in Campbell and Sons Chapel, 95 Gordon Road, Mosgiel, at 2.00pm, on Monday, November 30, followed by private cremation. Messages to 807 Brighton Road, Ocean View, Dunedin 9035.