Jim Wakefield remembered as "one of the best"
2 December 2020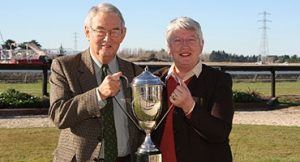 Awarded the New Zealand Order of Merit for his services to harness racing in 2012, respected breeder, owner and administrator Jim Wakefield has died in Christchurch, aged 87 .
The NZ Trotting Owners Association representative on the Harness Racing New Zealand executive from 1998 to 2010, he went onto become Chairman from 1999 to 2003.
According to friend and former HRNZ chair Ken Spicer: "He will remembered as one of Harness Racing's best leaders and administrators."
A key figure in developing the Racing Act 2003, he was also Harness Racing New Zealand's first appointment to the New Zealand Racing Board (2003-06), and chaired the organising committee for the World Trotting Conference in Christchurch in 2007.
Former HRNZ chief executive Edward Rennell remembers someone who was "very professional in everything he did .. he treated everyone with respect".
"My abiding memory is that he was very strong on industry integrity and maintaining high standards."
As an owner, breeder and prolific yearling sales purchaser he and wife Dr Susan Wakefield have been associated with star horses such as Bettor's Strike, Sparks a Flyin (21 wins), Texican, Scorching, London Express and London Legend (25 wins).
Bettor's Strike was second in Monkey King's 2009 New Zealand Cup with the Wakefields having a long and successful association with both driver and trainer that day, Dexter Dunn and Cran Dalgety.
Outside of harness racing, Jim Wakefield was a fellow (Hon Retired) of the NZ Institute of Chartered Accountants having been a member since 1956. He joined the Christchurch office of what became KPMG in 1952. He spent 27 years as a partner in the firm with three of these being Christchurch managing partner.
"He was a very astute business man, hard but very fair," says Spicer
Highly thought of in the business and harness racing worlds, Wakefield was also a chairman and director of numerous private and public companies, as well as a philanthropist and avid art collector.
Spicer : "A very modest and understated man, as a friend he was a great mentor and was always available to give advice … he was a wonderful man."
A celebration of Jim's life will be held at the Westpark Chapel, 467 Wairakei Road, Burnside on Friday, December 4, at 2pm.