Majestuoso adds to burgeoning record
9th October 2021
By Joshua Smith
While Sundees Son has been his sire Majestic Son's leading light in New Zealand, Majestuoso has carried his torch across the Tasman, adding yet another Group win to his record last week.
The Andy Gath trained and Kate Gath driven gelding was victorious in the Gr.3 Aldebaran Park Chris Howe Trotters Free-For-All (2150m) at Bendigo on Saturday 2nd October, the 20th success of his career.
Bred by Alabar Stud, Majestuoso was sold as a weanling at the Karaka May sale and has gone on to perform at the highest level in Australia.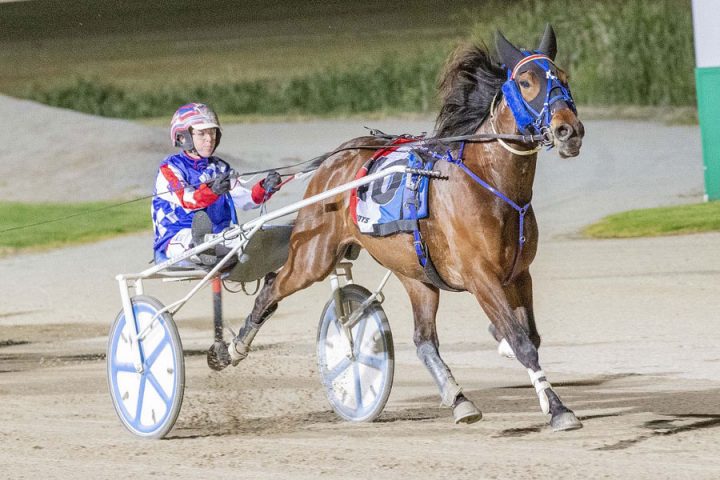 He boasts victories in the Gr.1 Victoria Trotters Derby (2690m), Gr.1 Australasian Trotting Championship (2760m), Gr.3 Shepparton Cup (2190m), Gr.3 Melton Trotters Free-For-All (2100m), Gr.3 Waggon Apollo Trotters Free-For-All (2100m), Gr.3 Coulter Crown (2760m), and Gr.2 The Holmfield (1720m).
"He has always been regarded as a very talented horse and Andy and Kate Gath have done a great job with him," Alabar Stud NZ General Manager Graeme Henley said.
"We leased the mare, Rosemaryz Luck, for a couple of seasons, and we sold both of the foals as weanlings.
"The first one we bred out of the mare (Need Luck, 9 wins) was by Great Success and they have done a nice job. The next foal was Majestuoso and then the lease on the mare expired.
"She was a nice mare, and it was a shame we only got to breed two foals, but that was the arrangement. It is a really good family, they get up and go early.
"I think we got $6,000 for Majestuoso as a weanling."
Alabar has continued to offer a growing draft at the weanling sale and Henley said it works in well with their business model.
"It works in with what we like to do," he said. "It enables us to breed more foals, which we think is important.
"Being able to sell them at that time of year works in with not having to carry so many horses through the busy stud season we have here.
"Ourselves and Woodlands Stud have sold quite a lot of foals at those sales and it has become quite a fixture."
Majestuoso has continued the great strike-rate of his sire Majestic Son, who stands at Alabar in South Auckland for a fee of $5,000+GST.
"He has been a wonderful sire," Henley said. "He has been the champion trotting sire in both Australia and New Zealand for the last four or more years.
"With having Sundees Son in New Zealand and Majestuoso in Australia, you could argue he has got the best trotter in both countries.
"He served about 80 mares last year and he is on track to do the same again."