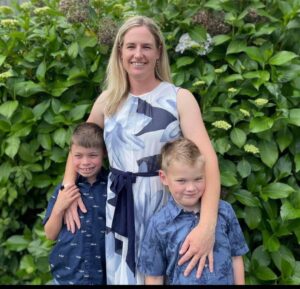 Megan Reidie appointed SSBA President 
  By Duane Ranger 
Invercargill veterinarian, Megan Reidie, has been appointed the President of the Southern Standardbred Breeders Association. 
  The 38-year-old Mum of two primary school boys, Reid (8) and Leo (5) took up office on May 19th – the day after the SSBA held its annual general meeting. 
  Reidie is passionate about the standardbred industry. She is currently breeding from four mares, and for the last year has been the New Zealand Standardbred Breeders rep on the Board of the New Zealand Equine Research Foundation. 
  "This is an exciting new venture for me, because breeding is something that I am deeply passionate about. I want to help the breeding industry grow and get all ages involved. 
  "I've always loved animals, especially horses, and I believe my job as a vet is also an advantage. Southland has produced many champions over the years. It's a great place to breed standardbreds," Reidie said. 
  Reidie has served on the SSBA for five years and said her work with the NZERF would be a handy tool to bring to her new role. 
  "With NZERF I get to promote education and research alongside representatives from other industry groups such as New Zealand Thoroughbred Racing and Breeding; the New Zealand Pony Clubs Association; and Equestrian Sport New Zealand. 
  Born in Invercargill, and educated at James Hargest College, Reidie did her five-year vet degree at Massey University in Palmerston North and then went and worked for Wai Eyre Farm and then Northern Southland Vets, which serviced Macca Lodge. 
 "Murray Brown and Brent McIntyre from Macca Lodge were both instrumental in igniting my passion for harness racing and breeding," she added. 
 For the past five years Reidie has been employed as an equine vet at VetSouth Equine.
"I love my job and being around horses all day, and I also love being a Mum and partner to a horseman, so you can see horses play a big part in both my professional and personal life. Her partner is Ascot Park trainer/driver/farrier, Jeremy Douglas.
"I'm so passionate about standardbred breeding I'm actually breeding from four mares, and hopefully will have my first New Zealand Cup starter in November," Reidie said. 
Reidie was referring to the 6-year-old Panspacificflight – Arts Mistress (Artsplace) eight-win ($106,941) gelding, Macandrew Aviator (1:56.8).   . 
  "I co-bred him. He started in the Free-For-All on Show Day last year and hopefully he can go one better this year. I'm very proud of him. He won the Group Three Northern Southland Cup in January, and it was even more special because the race was sponsored by Macca Lodge, which is obviously where Panspacificflight stands in New Zealand  
"It was great to share it with Brent, Sheree and Caine. They put so much into the industry and Brent has helped me considerably with my breeding to date," Reidie said. 
  Macandrew Aviator is the sixth of seven foals out of the 2005 Artsplace – Highview Mistress (Smooth Fella) maiden mare, Arts Mistress. 
  The four mares Reidie is breeding from are: 
The 2005 Christian Cullen – Lillian – Falcon Seelster three-win mare Petra's Star, who has left seven foals and is now in foal to Bettor's Delight.

 

The 5-year-old American Ideal-Beaudiene Ladylike – Falcon Seelster unraced mare, Lady Macandrew, who has left two foals and is in foal to Sweet Lou.

 
The 11-year-old Bettor's Delight – Arts Mistress – Artsplace two-win mare, Elle Ko, who has left three foals and is in foal to Panspacificflight.

 

The 9-year-old Angus Hall – Allegro Agitato – Sundon one-win mare, It's Summertime, who has left two foals and is in foal to What The Hill.