Miki Colt goes from Part of the Furniture to Provider of Furniture
By Garrick Knight
15 March 2021
When Sam Langrope rang his wife Claire with the news of their $60,000 windfall at the recent Christchurch yearling sales, there was only one thing on her mind.
"She asked whether she could go ahead and look at new lounge suites because our current one is falling apart," quipped Langrope.
"She actually didn't even watch it go through the ring, I was just told to call her if it was good news."
It most certainly was and Langrope was left very contented after Kirstin Barclay won a spirited bidding duel to secure Miki Cohen, an Always B Miki son of Kusadasi.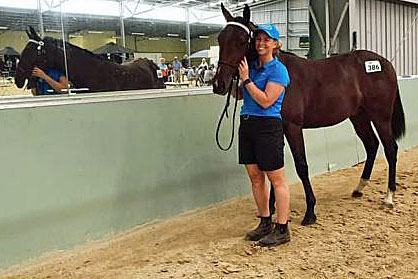 Langrope has dabbled in horse breeding for a few years now, but this was his first solo undertaking at the sales.
"This was my first go at branching out by myself; the rest of them I've bred with friends to split the costs.
"I actually bred two by Always B Miki that year but the other one I pulled out of the sale.
"There was nothing wrong with her, she was just finely-boned and I felt like her best value was going to be as an early two-year-old triallist rather than the sale ring.
"She's already broken in and well ahead of the other so I'm quite happy with that decision."
Langrope works as the Estate Manager at Dancingonmoonlight Farm so is closely aligned with on-site trainer Ross Houghton, property owner Robert Famularo and his daughter, Sara.
It was Sara who prepared Miki Cohen for the sales and Langrope credits her for how well his colt was presented.
"I thought he looked like a bull on sale day. Sara had the whole draft conditioned perfectly for sales day."
There was cautious optimism that the horse might sell well once he got on site in Wigram and multiple people came back for a second inspection.
For all intents and purposes he appeared to be a "stock standard horse" last winter, but that changed come spring time.
"From about the end of September through to February, he flourished.
"He turned in to a really, really strong colt and I started getting quite nervous as we got closer to sale time.
"A few big players were looking at him and the attention he got was very exciting."
On type he was a standout out and it was probably only the reserved approach to the stock of Always B Miki that meant he went for $60,000 and not six figures.
Considering that it was the second highest price of the 14 'Mikis' in the Christchurch sale and third of 22 across the entire catalogue, he can consider it about as good a result as could be expected.
Always B Miki is in that dark area where it's been more than three years since he was the 'hot new stallion' and it was only last week last he had his first New Zealand starter – Cos I Can.
Two fillies prepared by Barry Purdon and Scott Phelan make their debuts at Alexandra Park on Friday night and there was also a super impressive qualifier in Southland last week for Brett Gray, called You're So Fine.
It's very possible that in 12 months' time, the Miki stock will be in demand or, well, the opposite, so Langrope is probably happy to have hedged his bets in the middle ground for now.
Langrope is currently without a broodmare as Kusadasi has been sold to Australian interests and Carley Maguire has returned to her owner, Steve Witte, after Langrope bred just the one foal.
"I like to space things out a bit as I'm not one of those guys that can afford to just keep breeding foals every year.
"I have kids and a mortgage so didn't want to get too committed."
He has hatched his next plan, though and it involved tracking down a 12-year-old mare that never raced and has never had any foals.
The hard work is done, but the finer points are still being nutted so we can't reveal the mare or her family but suffice to say if the plan comes off, it could reap rich rewards.
"I wanted to find a specific mare to lease and put to Bettor's Delight.
"I would love to be able to go to the sales with a quality Bettor's Delight from a top family before he's finished as a sire.
"Now, thanks to Miki Cohen I will be able to do that. I just need to get the mare finalised."
In a story reminiscent of when Southland breeder Dave Kennedy had to ring a schoolgirl to get Themightyquinn's dam back as a broodmare, Langrope has had to put his detective's hat on recently.
"The mare kind of fell through the cracks about 10 years ago and I had to firstly ring her original owner to get his permission and then track down the lady that now owns her.
"A couple of things need to be sorted yet but it sounds like I am going to be able to lease her to produce a foal."
As well as breeding his own horses, Langrope is heavily involved with Robert Famularo and planning the breedings of the Dancingonmoonlight broodmare band.
"Robert and I keep a close eye on North American racing and do try to breed a couple to Northern Hemisphere time every season.
"We're always on the lookout for who could be the next big sire.
"In fact, this year we had a crack at breeding four to northern time, including putting Carabella in foal to Always B Miki."
Langrope was working at Clearwater Golf Club three years ago when Famularo "shoulder-tapped" him to offer him a job.
The farm was going in the direction of developing race young horses to race and sell as well as breeding for the sales.
"The first year I took a sideline position and watched how things went, learning about every aspect of the business.
"Then after that we started to implement changes including getting Ross Houghton to come on board."
Langrope has developed a strong contact base in Australia and North America, including with big-spending Florida owners, Mark Hanover and Gordon Banks, who recently purchased wonder mare Amazing Dream.
"We do sell a few horses off the farm and I have dipped my toes in to the agency side of things as well.
"I figured with the amount of two-year-olds we were going to have coming through every year, it was important to get my name out there in Australia so we had avenues to sell these horses."
ork? And how can we do better."