Mum, dad and son set to record a first
By Frank Marrion, HarnessXpress
1 March 2021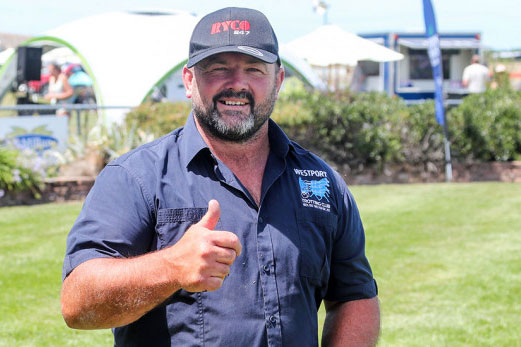 Westport's Phil Beveridge is aware he can create a slice of history at some point later this year.
In due course Beveridge expects to be racing the three-year-old gelding White Star Orlando and he is also the owner of his dam Hello Adele, a recent winner at Motukarara at odds of 58 to one.
That daughter of Christian Cullen was Beveridge's first success as a trainer and only his second horse, following on from Lolita Franco, a mare who won a race at Nelson a few years ago when trained by Rodney Dickson.
White Star Orlando is by Rocknroll Rod, now a five-year-old gelding who won his seventh race for Kyle Austin at Addington Friday week ago.
The piece of history would be racing White Star Orlando at the same race meeting as his sire and dam, which would surely be a first.
Beveridge thought there was a chance this might happen at the upcoming Coast circuit, but Austin is no longer bothered with racing Rocknroll Rod on grass tracks anymore.
Also a slight setback recently means that White Star Orlando won't quite be ready for the Coast for trainers Jason and Ian Thomas.
But the opportunity for all three to come together should present itself in coming months.
So how did this rather strange set of circumstances arise one might ask?
Firstly it took the jumping ability and virility of Rocknroll Rod when he and Hello Adele were just yearlings in adjacent paddocks at Noel Kennard's farm at West Melton.
Austin recalls that Kennard had advertised Hello Adele as being for sale, but when he got there for a look, he much preferred the colt and took him home instead.
Hello Adele, owned at the time by Reg Storer, was sent away to be broken in by Jack Harrington.
At this point, nobody knew that Hello Adele was in foal to Rocknroll Rod, who had been doing a good imitation of his namesake, Rod Stewart, it seems.
"Jack told me they couldn't figure out why Hello Adele had been so lethargic, until they realised some time later that she was in fact in foal," said Beveridge.
"Later I saw Hello Adele advertised for sale on The Horse Trader as a racehorse and I headed over for a look.
"(Storer's daughter) Bella had mentioned something about a foal, but I wasn't expecting one to be from a two-year-old, so I was rather surprised to get there and see Hello Adele running around the paddock with a foal in tow.
"So I got a 'two for one' package and headed home."
Beveridge was working at the time with Dickson at Orica, making explosives for the mining industry, and it was Dickson who convinced Beveridge to give it a go.
"Rodney said that while she might have had a foal, she was still only a two-year-old, and you couldn't go far wrong with a Christian Cullen filly at 2k. The foal was a bonus."
Hello Adele has proved to have limited ability, but White Star Orlando is looking quite promising.
He won a workout at Ashburton as a late two-year-old in June last year before Thomas tipped him out.
"He made a rather good impression that day and we wanted to look after him.
"He's due back at the trials this week I think."
Beveridge has been clocking up the miles racing Hello Adele lately, but decided early on to hand White Star Orlando off to Ian and Jason Thomas.
"With a full-time job I've only got the time to train one and when White Star Orlando began showing me a bit of speed early on, I thought I'd better get him over the Alps and into a professional stable."
Rocknroll Rod is from a mare by Christian Cullen so White Star Orlando has a 3×2 maternal cross to him.
Breeders with Christian Cullen mares have been reluctant to put them to Lazarus because he is from a Cullen mare, but it may not be worth worrying about that much.
White Star Orlando has another three crosses to Direct Scooter in his pedigree, but they're far enough removed to be of no consequence.
Should White Star Orlando and his parents wind up racing at the same meeting, that would surely be a first.
There would be other cases of one parent and a foal racing at the same time, with one example coming to mind being Precocious, the top trotting mare around 50 years ago.
She was sold as a yearling unwittingly in foal and the resulting foal, a filly by an unraced son of Aksarben in All Gallant, was named Over Fence.
The buyer in Andy Carmichael decided to keep Precocious anyway and it was a wise decision – she won 16 races including a Dominion in 1971 with his son Jack training.
She had begun winning races in 1968 when Over Fence came along and they did actually race together at the same Hawera meeting at Easter that year.
But whereas Precocious was 'long gone' in the handicaps, Over Fence remained a maiden in 22 attempts.
Andy Carmichael also raced Over Fence and her first foal was a hardy campaigner in Precocious Lad, who won six races before a sale to America, where he trotted in 1.57.6 in the 70s.
That is probably about as close as anyone is going to get to today's case.
From all accounts, Rocknroll Rod is going to have a 100% siring record before too long.
There will be other such cases as that, where a horse has jumped a fence and the foal has won, only for the 'sire' to be later gelded.
But a sire and its foal racing at the same meeting would be a stretch, let alone the dam of the foal as well.
Rocknroll Rod, who wasn't a dear horse either, has been doing a very nice job of filling the boots of Buster Brady for Austin.
He was sold to the McCarthy stable late in 2018 and Rocknroll Rod won his first race in February, 2019.
His latest win was his fifth in a 1980m mobile at Addington and that is his forte says Austin.
"He's not bad on grass tracks and late last year he went close in the Akaroa Cup and was placed in the Westport and Reefton Cups, but the grass does take some of his speed away and he's not as good as being on the grit.
"He's at his best when allowed to bowl along in front and do his own thing, which is why the 1980m races suit him."
Rocknroll Rod did win his third race at Motukarara, an up to R55 for junior drivers, and his other win was at Addington in a 2400m stand six days later in the same class.
That day he started off the unruly mark but Blair Orange had him in front within 600m.
Rocknroll Rod got a very heady drive by Jonny Cox last time out.
He had to do some work to find the front from barrier six, but Cox was able to back the speed right off through the middle stages before rating him home in 56.8 and 27.4 to easily hold the trailer Boom.
"That's the pattern that has been emerging for that trip.
"There's that early battle for positions and if you can find the front, you can dictate the tempo and sprint them home.
"That's why so often it's curtains if you draw badly."
Rocknroll Rod was in to go around again at Addington last week, but Austin scratched him after three hard races in three weeks.
Last time was a big drop in class for him after having to compete against It's All About Faith, Ragazzo Mach, La Rosa and That Alexander Guy in his prior two races.
"Last week was an up to R80 but this week is a 1980m for up to R75s so that should be a little easier."