New role for Delightful Memphis
7 December 2020
By Dave Di Somma, Harness Racing NZ
After winning  over a  quarter of a million dollars in the United States, former top racemare Delightful Memphis has returned home to be a mum.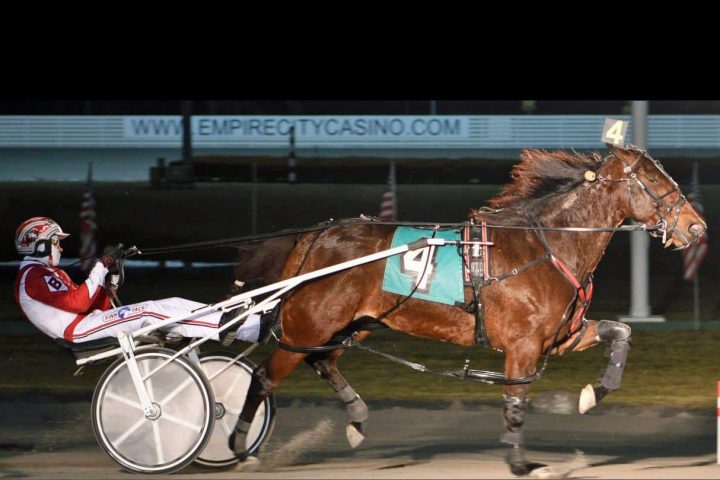 It's rare – but far from unprecedented – to bring an American-based horse back to New Zealand to become a broodmare.
"It would have cost us $30,000 to bring her back," says majority owner Wayne Higgs, "usually it's 22,000  but with Covid etc it's cost more."
"She's come back in fantastic order."
After going into quarantine  the seven-year-old daughter of Bettor's Delight has had a date at Nevele R stud near Christchurch.
"She's been served by Always B Miki," says Higgs.
"We think if she produces a good looking foal to that breeding at the yearling sales, it'd go pretty good."
Trained by ex pat Kiwi Nifty Norman in New Jersey Delightful Memphis won nine from 35 in the United States, and $US188,000  ($$NZ266K).
"She didn't win a real big one we ran into a horse called Shartin which was unfortunate, and before that we ran into Spanish Armada," Higgs said ruefully.
The Canterbury bred-Shartin was all but invincible in the States in 2018 and 2019, winning  15 of 19 on her way to being named US Horse of the Year last year while in this country  Spanish Armada won 14 from 19 races in the 2016 and 2017 seasons.  Delightful Memphis was runner-up to her on no fewer than nine occasions.
Now the Higgs bred and owned Stylish Memphis is his star horse with eight wins from 19 starts, but is playing second fiddle to six time Group one winner Amazing Dream.
Stylish Memphis is now being set for a southern campaign this summer while Delightful Memphis gets used to her new life off the track.
"Her mother has had 10 foals to date so it would be nice to get somewhere around that number also out of Delightful Memphis."