Pinelea Pair Making Mark At Stud
By Garrick Knight
21 October 2020
Pinelea Farm's Graham Court has known for a fair while that Stephs Boy is 'the real deal'.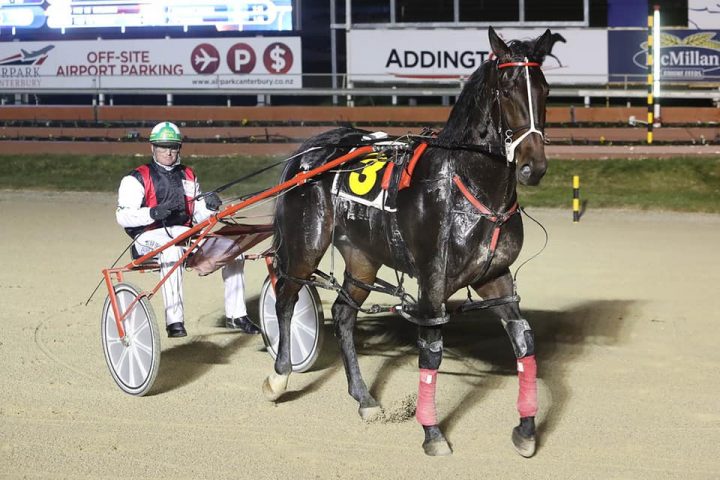 So, it was no surprise to him when the impressive physical specimen got the better of highly-regarded favourite Shan Noble at Addington recently.
"He's a very good horse with a big future," said Court.
But his importance to the stable goes well beyond being a nice horse to take to the races.
Court is banking on the horse to be the launch pad for Pinelea stallion Johny Rock's stud career.
And while Stephs Boy is expected to make it to the Derbies and Jewels later in the season, the real story here is his sire Johny Rock.
This was his first winner as a sire and could not have come at a more important time with stud season just kicking off.
The Courts – Graham and son Paul – and some good clients, including Noel Kennard, Ken Breckon, Tom Kilkelly, Paul Renwick, Terry McDonald and Peter O'Rourke, imported Johny Rock from North America in 2013.
"Paul was living in Canada back then and had seen him race early on.
"He really liked him and we put together a syndicate to buy him, the idea being to bring back here to race and then stand as a stallion.
"Things started off well; just after we secured him, he went out and paced 1.48, which was a fifth of a second outside the world record for a three-year-old at the time."
He would tackle the famed Little Brown Jug as his American swansong but failed in his heat and didn't make the final.
If we're being kind, his Down Under career was rather inauspicious, just three wins from 21 starts and all in Australia.
"He just didn't adjust to our racing unfortunately," says Court.
"Hindsight is a wonderful thing and maybe we should have given him three or four months off to adjust to changing hemispheres."
So it was off to stand at Court's Pinelea Farm stud alongside Terror To Love and it's fair to say most involved will have had a bit of a headache by then.
Predictably, he struggled to attract mares – just 18 in the first season and 12, 15 and 19 in the subsequent three seasons.
"And most of them were our own mares," Court noted.
He'll face an uphill battle but a horse like Stephs Boy, from a crop of just 16 foals, could well turn around his fortunes.
Two were sold to Chinese buyers due to their impressive looks as unbroken yearlings, leaving just 14.
Of them, four have already qualified and another three have been to the workouts.
But don't be fooled in to thinking Stephs Boy is a fluke – there's another one at home that could be just as good.
"He's called No Time Like Now. We qualified him before Christmas then put him aside but he's back in work now and looking the goods.
"His dam is actually a half-sister to Terror To Love.
"And just the other day we qualified a really nice filly called Reel it In. So we expect him to really starting making a name for himself as a stallion this season."
Addington commentator Matt Cross has twice referenced Stephs Boy's quite amazing physical characteristics, something Court says he inherited from his sire.
"He's just like his father, who is a magnificent looking stallion. And he's left his stamp on his foals."
With such a paucity of numbers on the ground, it was imperative that first crop looked the part and can run.
"No problems there," says Court.
"Many of them are very upstanding, 'film star' types like himself. And they have great conformation."
Johny Rock's stablemate, Terror To Love, also continues to kick goals from limited opportunites.
His first crop of live foals numbered 60, and Court sold four to his good Chinese clients before they had even been tried, to it's really only 56 that can be statistically considered.
He's already had 32 of them qualify while another two are workout winners and soon to join that list.
Southland star Love On The Rocks is winning them in a row while others like Yoha, Total Diva, Under Wraps, Terry and Ifyousayso are kicking goals both here and in Australia.
There is an expectation that this season is really going to be the one where 'Terror' solidifies his position as a reputable stallion worthy of decent mares.
His ability to leave a good amount of good horses from small crops has already compelled many breeders to book their mares to 'Terror' this season.
"The bookings started trickling in over winter and we've had plenty more in the past month," said Court.
There were also a number of Australian enquiries for his semen but, due to the stringent regulations for semen transport and the huge costs, Court isn't shipping it this season.
Terror To Love's second crop has already produced phenomenal qualifier El Casanova, who was sold to Perth interests for a large six-figure sum after qualifying back in June.
"He's got a really nice group of horses coming on, both in our stable and around the country.
"In just the past few weeks there's been another half a dozen qualify and a few more having their first workouts."
He'll always be regarded as one of our greatest ever racehorses – three New Zealand Cups on end including that unforgettable performance to win his third in 2013 are testament to that.
And his fans will be pleased to know he is relishing retirement.
"He's taken to being a stallion like a duck to water. Just a real gentleman and pleasure to do anything with.
"He has a great life here at the stud and is really thriving."