Meet Anna Miles – Co-ordinator of the South Island Foster Foal Service
5th November 2021
This time of year brings so much joy and excitement as the next generation of stars arrive. But for some it brings unfortunate loss. Foster foal services around New Zealand are the unsung heroes of the industry, uniting those mares and foals affected by such loss.  The South Island Foster Foal Service is one such organisation, led by co-ordinator Anna Miles. Here's Anna, in her own words.
"I thought I should introduce myself to you all. I live near Waimate on an agistment property called 'Pear Tree Farm' where we do a lot of weaning and spelling. My husband Michael and I breed one or two thoroughbred foals each year. Each February I head up to the Standardbred Yearling sales as a leader for Broadfield Lodge.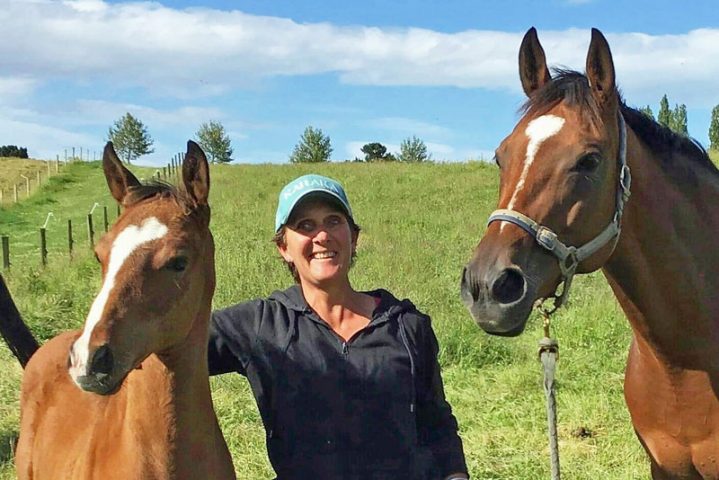 My daily life is always varied. Alongside running Pear Tree Farm, I work at the local high school as a relief teacher. I am also employed by the Otago Racing Club and Gallop South as a Clerk of Scales on race days in the Otago region. In 2019 I launched a small business called Equine Mementos, which sees me creating horsehair jewelry and keepsakes for people.
I am a committee member on the CMWO NZTBA and I currently serve as the Southern Councilor on the NZTBA National Council.
Several years spent overseas working on large thoroughbred studs gave me plenty of experience with fostering mares and foals. Early in my career, I studied Thoroughbred Breeding at the Irish National Stud and was awarded their Gold Medal at the completion of the course.
In my spare time, I love to get out on the hunt field or into a race car for a bit of an adrenaline rush. Michael and I are also in the process of restoring an historic timber church which is a project that we both love.
I find running the SIFFS very challenging but hugely rewarding when there is a successful fostering. It is a very emotional few months and I am always quite happy when the season comes to an end.
I would like to personally thank the amazingly generous mare owners who kindly offer their precious mares to the service in difficult times. Without the mare owners, there would be no foster foal service. You are all wonderful people.
The best way to get in touch with me if the need arises is by text on 021 0250 3472 or PM though the SIFFS facebook page. I will always respond as soon as I possibly can. Please check the pinned post at the top of the facebook page for the rules and guidelines when using the service."