Ray Reekie doing it "Tough"
By Brad Reid, HRNZ's Breeding Manager
28th August 2021
Canterbury breeder Ray Reekie has spent a lifetime involved in harness racing having grown up working in stables with the likes of Jack Carmichael, Jack Smolenski, and Cecil Devine.
While he admits to finding the rough and tumble of some hard taskmasters a little overbearing, it didn't stop him from taking out his licence as a trainer way back in 1987.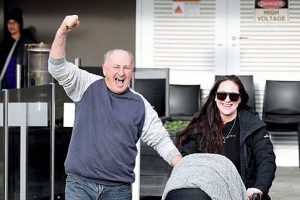 Since then Reekie has dabbled in all aspects of the sport as a trainer, amateur driver and passionate owner and breeder with plenty of time and money poured into his pursuit of that elusive good horse.
And while the last 18 months for many has been challenging, for Reekie it has represented his most fruitful in an industry he so dearly loves.
At Oamaru on August 15 Reekie found himself once again in the winner's circle thanks to the progeny of his Christian Cullen broodmare, Cullen's Mercy.
It was the second win this prep for the well-named I'm Tough (5yo g Bettor's Delight – Cullen's Mercy) and fifth of his career.
When he won the final heat of the Junior Drivers Championships at Addington Raceway back in July, it represented all three of the progeny Reekie has bred from his mare having won a race in the 2021 season.
"I'm very pleased for Cullen's Mercy and the success she has had this year," said Reekie.
"You spend so much time and pump a lot of money into it, the success isn't something that happens overnight and requires a lot of luck and patience.
"So to get a result that ticks the box for the mare is what it's all about you know.
While Reekie has bred and owned a few over the years, it's Cullen's Mercy who has provided the most thrills and his affinity with this breed goes back to the attendance of a Spreydon Lodge dispersal sale in 2005.
Reekie had a single mare circled and went along intending to purchase his identified target.
A rush of blood to the head however saw Reekie go home with a different mare altogether!
"I went there intending to buy Show No Mercy (1989 31 Br m Tuapeka Knight – Sally Belwin) but ended up buying a Live Or Die mare earlier on in the piece.
"I went home thinking that would be my lot but after the sale concluded I was told that Show No Mercy had passed in and I ended up getting her for $8000.
Show No Mercy was 16 years young at the time but had enjoyed some success at stud and was from a very solid maternal family.
Show No Mercy's dam Sally Belwin (1971 Royal Scotchman – Sallymount) had won the Group 2 Northern Breeders Stakes in 1976 and had gone to North America and broken two minutes for the mile before being imported back to our shores for a career at stud.
Seven six-figure earners descend from her maternal line with Show No Mercy proving to be the best of her producers.
Bred by Steve and Ann Phillips, her first foal was Chloe Hanover (1995 Holmes Hanover) who although only had a single start at three, went on to win the '2000 NZ 4YO Mare of the Year' after a meteoric rise through the grades saw her winning a Hannon Memorial and Methven Cup at consecutive starts.
Show No Mercy had had 11 foals by the time Reekie acquired her with only four winners among them and none quite of the calibre of Chloe Hanover.
"She was an older mare who was in foal to Holmes Hanover at the time, but I wanted her to breed a Christian Cullen foal," he said.
"He was the top sire in those days and I had loved watching him race.
Fast-forward two years and Reekie had his Christian Cullen foal from the mare he so desperately desired.
A filly no less which was an added bonus for the breeder.
"She had a beautiful head on her and looked like a real Christian Cullen and was such a pretty filly and racemare.
"Ken Barron broke her in and said at the time she felt like a $100,000 filly. I should have told him to give me $90,000 there and then," he laughed.
All jokes aside, while Show No Mercy never quite lived up to the six-figure billing, she has provided Reekie with an enormous amount of fun and enjoyment.
"She always showed a bit of lick, but she brushed a knee which probably stopped her from reaching her true potential," he said.
Although Cullen's Mercy was honest and had picked up a couple of wins in the care of Jamie Gameson, Reekie took over the training of the mare himself and had Cullen's Mercy placed mostly in the Junior and Amateur Driver ranks.
After some fairly average results, he decided a change of scenery was necessary and sent the mare to Robert Dunn to see if he could bring out the best in her.
Reekie lined her up once more in the Amateur ranks where she misbehaved to the point that Reekie informed the stipes he would be leaving her future racing in the care of professionals.
It ended up being the makings of her.
She came out and won her next start at Ashburton paying $22 on the tote which started a run of form that saw her running second to the Group One placed Helena Jet, before breaking a track record at Wyndham next up over the mile.
"It was the best performance of her career and hardly surprising she went such a good time. She always had speed but the big roomy track suited her gait a lot more than others. She went straight to the front and ran them off her feet," he said.
1:53.7 for the mile off the front at Wyndham had the more fancied and group performed runners like Here We Go Again and Safedra gasping for air with Cullens Mercy winning as she liked.
She retired in 2014 as one of the 20 fastest race timed mares in New Zealand with 5 wins and 15 placings to her name.
"You're more hopeful than anything when racing and breeding horses and never know what's around the corner.
"I have a saying with the horses, expect little and in return and you will never be too disappointed," he said.
Reekie gave Cullen's Mercy the best possible chance at stud sending her to champion sire Bettor's Delight who made perfect sense on paper given the cross was a proven one.
"Going to the best and hoping for the best might sound cliché, but to me the service fee is irrelevant, it's the product that you've got for the next ten years that you poke all your hope, money, and effort into," he said.
Reekie took the resulting colt to the Yearling Sales in 2017 which ended up being a buy-back exercise.
"I bought him back for around $30,000 which was disappointing at the time, but after he won on debut and then again at his second start in a $20,000 premier race we had a $100,0000 horse on our hands.
"Blair Orange drove him that day and he was back in the field and I remember Dina Bolt and Mark Purdon were favourite and the commentator said halfway down the straight that pair were five lengths off them and would have to be good to win.
"We were a further two lengths behind them and flew at the end and got up and won on the post," said Reekie.
Although he initially entered the son of Bettor's Delight in the yearling sales, a conversation with Reekie is enough to tell you he isn't in the sport to sell.
After a brief discussion with his trainer in the following days, the answer was a firm no to whether the horse was for sale.
"Then we had our hiccups with him," said Reekie.
"He's a horse that's never settled. When he was at the Dunns, they couldn't work him with other horses because when another horse came round to take the front off him, he would grab the bit and wouldn't let another horse head him.
"When Brad Mowbray moved in two minutes down the road from where I lived I thought it would be perfect having him there because I could go down and do a bit with him.
"I've seen it first-hand now, every time you put the cart on him he wants to just bolt on you and go go go.
"One of the first times I drove him at Brad's place, he had me leaning out the back of the cart and while I'm not as strong as I used to be, I had a bloody sore back for about three weeks afterwards," he exclaimed.
After a long layoff spanning nearly 7 months, Mowbray quietly bought the son of Bettor's Delight back in and had him placed in the national Junior Drivers series at Addington.
"His form had tapered off in his first three starts at Brad's place and he dropped back from a rating 67 to be below 60 when he came back from his spell.
"He drew poorly (9) in the Junior Drivers Series race but we were delighted to have Sarah O'Reilly on board and it was a great climax because building up to the race she was level pegging with John Morrison," said Reekie.
O'Reilly was instructed by Mowbray that the horse was ironically tougher than he was fast and that there was no point two of them fighting each other.
As we have come to expect, the natural horsewoman delivered a pearler, settling briefly from the wide draw before working I'm Tough forward for the lead at the mile marker which is where he remained until the finish.
"The natural tendency is to restrain him and not let him do it, but we think it was taking a bit of his mojo off him because when we raced him he wasn't finishing off his races and was going a bit ordinary," said Reekie.
"He works by himself now and we like to think we are working him out a bit. Brad's been fantastic and while we've never been able to pinpoint it, he has never been 100% sound and we've always had to space his races to see the best in him.
Reekie admits that may have been an issue second-up this prep, however, the sudden rise in class against the likes of the talented Sugar Me, Somekindawonderful, and That Alexander Guy was never going to be easy given they all had the fitness edge as well.
He was beaten into last but was far from disgraced and Reekie wasn't perturbed from making the drive down to Oamaru to watch his pride and joy.
"I go to all of their races because, after years of breeding them and putting up with the ups and downs, I would be foolish to not enjoy the racing side of it because you never know when it's going to be your turn.
It was a handy field that included the likes of Di Caprio and Yossi, but Blair Orange pinged the tapes and had them chasing all the way.
I'm Tough was headed from inside and out but dug deep to hold off all challengers and once again reinforce what a well-named pacer he is.
"I think about 20 years ago I called a horse I'm Tough as I thought you have to be tough in this game to succeed.
"I like the idea of having a moniker so that if you do have any success, hopefully, punters and racegoers will remember the name and relate it to my breed and family," he said.
That is proving to be the case with the two younger siblings of I'm Tough both having won races for Reekie and Mowbray earlier in the year.
She's Tough and He's Tough are full brother and sister by He's Watching with the former having won four races from 24 starts and the latter having won the once from a handful of starts.
"She's Tough is not a big mare but she's got a beautiful nature, she's a lovely mare and you can do anything with her.
"Her mum was the same and I'm not sure how common this is but if it's any indication, the stud farm told me that Cullen's Mercy was allowing another foal come and drink off her which I don't think is all that common," he laughed.
"He's Tough is a nice-natured boy too but he's a pretty big bugger while his sister has thrown more to her mother who wasn't overly big herself.
"They are both still spelling at the moment and we've taken I'm Tough for a bit of a spell now as well. I've always believed that if you look after them, they will look after you and I've always done what's best for the horse. You won't see them until November most likely.