Revell Douglas – Obituary
Heartbreaking news
Revell was a valued member of the national Breeders having previously served on our executive as well as being chair of the North Island branch for some time.  He was a talented horseman and a valued member of the racing fraternity and will be missed. Condolences to his family and loved ones.
Article below reposted from HRNZ website.
9 January 2021
By Garrick Knight
Shock and grief reverberated through the entire industry on Wednesday when word spread that South Auckland horseman Revell Douglas had died in the most tragic of circumstances.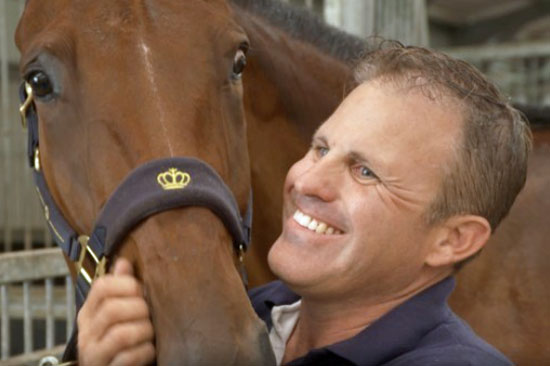 The 46-year-old horseman, a former racing administrator and journalist, drowned at Karioitahi Beach near Waiuku shortly after working his new trotter, Scrappylittlenobody.
Douglas, universally liked through both the racing and equestrian industries, departed this earth a hero after helping save the lives of six children.
While 2020 was calamitous for most people, for Douglas it had seen him buy a new house and start a new relationship with partner Lou Watkin, who was with him at Karioitahi Beach on Wednesday, along with seven children.
"We met six months ago and I've never known a more beautiful soul," she said.
"A gentleman, an amazing dad and perfect partner. He just blew me away.
"I am just speechless at what has happened to a wonderful, wonderful man.
"He was so proud of his horses and he really wanted us to go down and see 'Scrappy' run on the beach.
"So he picked Scrappy up and brought his three sons down and his father, Don, brought his horse down too.
"Don and Rev gave their horses a good long run up the beach then after they finished, Rev took Scrappy for a swim in the water."
Training his horses on the beach was cathartic for Revell, Watkin reckoned.
"Just a couple of days prior he had sent me some beautiful photos from the beach telling me how inspiring it was and how he loved taking his horses down there."
Unfortunately, what was shaping as lovely family morning at the beach soon turned to tragedy.
"The kids decided to go for a swim and very quickly found themselves in difficulty so we both went in to help them.
"With the help of Revell's eldest son, Lockie, we managed to get them all out but sadly, Rev didn't make it.
"He has died an absolute hero and we are all forever indebted to him for making sure the kids were safe."
"He gave everything to make sure they all survived. It was just too much in the end."
Douglas was born in Helensville in 1974 to parents Don and Laura, a younger brother to Paula, before the family moved to Waiuku a couple of years later.
He grew up in the sleepy town southwest of Auckland, eventually attending Waiuku College.
"He excelled in all sports there and ended up being captain of the First XV," said his father, Don.
He then shifted to Palmerston North in 1993 to study Agricultural Economics and Marketing at Massey University in Palmerston North.
Freshly graduated, he returned to Auckland and started working in the Ardmore stable of Glen Harwood, who was then private trainer for Steve and Jill Stockman.
Like most aspiring trainers, Douglas had a hunger for knowledge and wanted to expand his skillset, so spent a year in upstate New York working for former Kiwi, Paul 'Stretch' Jessop.
He would often retell the story of how he accompanied Auckland Cup winner Burlington Bertie on the flight across the Pacific in early 1998.
Australia was next and an 18-month stint at a prominent thoroughbred establishment in New South Wales before he returned home early in the new millenium.
He shifted to New Plymouth, where his sister now lived, and worked for the Taranaki Daily Times as a sports and racing writer as well as contributing to the Harness Racing Weekly.
Before long, an opportunity arose to become the Racing Manager at the Auckland Trotting Club and he took it with both arms.
"He was much liked and admired at Alexandra Park," said Don.
"And I know he enjoyed his time there."
By now Douglas was married to Julia and they were starting a family and due to her professional advancement, they moved to the Waikato.
He decided to make a go of it as a horse trainer and set up a stable on the property of Robbie Hughes, near Lake Karapiro.
His first winner came at Taranaki in April 2007 with the claiming mare, Cool Service, but she was soon claimed off him and around this time he had leased an unraced trotter, Rockin Brie, from John Green.
She won four races in 18 months for him before he had to hand over the reins to Don because an opportunity arose in Western Australia.
"He attained the role of CEO and Racing Manager at Pinjarra Raceway in 2009," recalls Don.
"More or less he jumped off the plane in his gumboots and inherited a huge development of new stands and infrastructure.
"These were completed successfully before he left."
He also dabbled in training while there most notably with veteran Kiwi import Turismo, who won four on end shortly after arriving in 2011.
The Douglas family spent three years in Pinjarra and youngest son Liam was born there shortly before the decision was made to move home and have the boys attend school in New Zealand.
The next eight years, based primarily in Karaka, saw Douglas build up the New Zealand arm of Hygain, an Australian-based horse feed company.
"Initially it was a developmental role because until his appointment they had only dabbled in New Zealand," said Don.
"He more or less built it from the ground up in New Zealand to what it is today, so it was a very successful partnership."
He kept his hand in horse training when time allowed, his life very busy with Hygain and raising three sons, but he managed to train eight further winners in that time.
Started 2020 off well with three wins in the space of a month thanks to giant trotter Locksmith, and injury-plagued pacer, Revving.
Douglas got his fifteen minutes of national fame when appearing on Seven Sharp last year, recounting the heart-warming story of Locksmith being saved by a team of people after falling down a well on the Glenbrook property he was training from.
Don Douglas says he takes solace from the fact that his son was content in the months before his passing.
"He was just so happy, in a really great space.
"And I'll always cherish that last trip up the beach we took together on Wednesday morning.
"I haven't just lost a son; I've lost a great mate."
A testament to his overwhelming popularity was the scores and scores of tributes from friends and colleagues on social media as news spread of his passing.
The common theme was clear – a proud and committed father, a champion bloke with a heart of gold and razor-sharp wit.
An accomplished horseman and administrator successful in everything he turned his hand to.
A friend to hundreds, not one of them with a bad word to say about him.
And finally, a hero.
Revell Paul Douglas is survived by sons Lockie, Hamish and Liam, parents Don and Laura, sister Paula, brother in law Patrick, partner Lou, and wife Julia.
Funeral details are yet to be confirmed.