Rose gives Purdons breeding success
By Brad Reid, HRNZ's Breeding Manager
25th August 2021
We've become accustomed to seeing the names Barry and Katrina Purdon in the credits of race winners in New Zealand for well over 30 years.
Master trainer Barry has had huge success selecting and purchasing yearlings, it runs in the blood after all.
His wife Katrina has enjoyed incredible success as an owner with the capable horsewoman having an eye for bloodstock herself, and that has led to the couple bringing home the likes of Jack's Legend, Five Card Draw, Sky Major, Maxim, and Mach Shard to name a few in recent times.
Unlike a lot of their yearling sales purchases where the pressures of an early return often negate the ability to be patient, the Purdons haven't had any such issues with the American Ideal mare, Be My Rose (4 m American Ideal – Bettor Rose).
The mare they bred and own chalked up her second win in seven starts at Cambridge on August 12.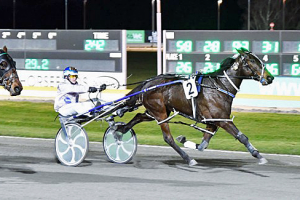 "She was a little slower maturing, but when you breed them and own them yourself, they can stay in the paddock a bit longer and it certainly hasn't done her any harm," said Katrina.
American Ideal is probably not a renowned sire of juveniles in New Zealand, so time was always going to be the friend of the blue blood mare.
After lobbing the trail in the hands of Crystal Hackett, she was always going to be hard to beat and that proved to be the case.
"She's a lovely kind mare who is a pleasure to anything with and it was great to pick up the win with Crystal in the cart. She is a fine reinswoman and very accomplished equestrian rider also," said Purdon.
Be My Rose traces directly back to broodmare gem Black Watch which was a large factor in the purchase of her Bettor's Delight dam, Bettor Rose.
Barry Purdon had picked her out for stable clients and she showed an enormous amount of ability before breaking down after only four starts.
"She had a couple of starts for us and was looking really nice, but she copped a terrible check in the Peter Breckon Memorial when she was drawn to get some money.
"Unfortunately it resulted in a lacerated tendon and she never raced again.
"Because none of the partners in her were breeders, Barry and I bought them out of their shares and have bred her ourselves since," she said.
While it's not an overly common occurrence to see the Purdons in the breeding side of the results, it's not their first taste of success on that side of the coin.
Katrina was in the ownership of Bee Gee's Dream with the Staying Alive Syndicate. After retiring from a racing career that promised so much and ended prematurely the mare was sent to stud.
She would go on to win the 2003 NZ Broodmare of the Year title on the back of the deeds of Party Party, Another Party, and Champagne Party who between them won multiple Group races in both New Zealand and Australia.
It's a family that has bred on with the likes of Group One winners Democrat Party and Cowgirls and Indians descending from daughters of Bee Gee's Dream.
"We're also breeding from a mare called Supremacy who was a beautiful mare that we raced but she's been a shy breeder, unfortunately.
"We've only been able to get the one foal out of her despite the best efforts of Alabar who do a wonderful job with the mare."
The nine-win daughter of Christian Cullen out of broodmare gem Victor Supreme is well worth the rigmarole despite the challenges afoot.
Ten missed services and two dead foals are the unfortunate tale for Supremacy since producing her only live foal in 2014, the talented filly, Bounty Lady (Art Major) who did a super job before being sold to North America.
Thankfully Supremacy is safely in foal to Always B Miki so the Purdons will be crossing every finger and toe for a safe arrival in a month or so.
Bettor Rose is also in foal to the promising stallion making for an exciting breeding season with the progeny of Bettor Rose already on the ground to look forward to also.
Captaintreacherous filly, Chantilly did a nice enough job in her two-year-old campaign and although her record would show she hasn't filled a placing in seven starts, she raced at the highest level and placed fourth on four occasions and twice at Group level.
With the birthdate change, the two-year-old season has effectively been extended by a further four months which in the future will benefit a filly like Chantilly who was still growing into her frame.
"Chantilly is not quite back in work but she has done very well in her time in the paddock, grown a lot and we are looking forward to getting her back in.
"Her Art Major yearling colt has broken in very nicely and we are excited by his prospects, and she has a weanling by Captaintreacherous who we are looking forward to seeing develop.
"It's quite exciting, we have been busy trying to work out who we are going to put the mare to this coming season," said Purdon.