Stratford's eye for a weanling on show
21 June 2021
By Jonny Turner
Tony Stratford's eye for a quality weanling saw him complete a rare hat-trick with the debut win of Cherokee Jack at Ascot Park on Saturday.
The three-year-old impressed when starting from the unruly and sitting parked for the last lap of his gritty first-up victory in race 1 with Blair Orange in the sulky.
The win completed a three-from-three win rate for Stratford who selected and purchased Cherokee Jack, Sweet Lizzie and Leithen Burn as weanlings.
"We bought him at the weanling sales before the Jewels three years ago," the trainer said.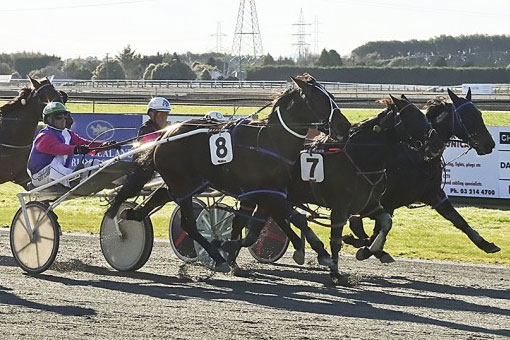 "We bought three, him, Sweet Lizzie and Leithen Burn and he is the last of them."
"He is up with the other two, but it has been a time thing."
Sweet Lizzie and Leithen Burn were both leading three-year-olds in Southland this season who won't be seen at the races again in New Zealand.
Sweet Lizzie had to be retired during the season after suffering injuries in a paddock accident.
Leithen Burn, who was as good as any of Southland's three-year-old colts and gelding behind Ragazzo Mach, has been sold and has moved on to Queensland.
"He is a good wee horse, I thought his Supremacy run was phenomenal and with any sort of luck he would have at least run third, if not second."
"He has gone to Brisbane and he will do a super job there."
Stratford is known for producing star Queensland pacers with Pulp Fiction and Lilac Flash racking up dozens of wins in recent seasons.
Cherokee Jack hasn't been the same kind of early running type Sweet Lizzie and Leithen Burn have been, but he looks set to make up for it.
"I quite like this horse," Stratford said.
"I have liked him since day one, really."
"But he has just taken time and he will take a bit more time yet, but he will be a nice horse."
"We won't be in any hurry with him."
Stratford has produced 15 winners this season at a strong strike rate, with just 101 starters.
The trainer has a small number of racehorses in work while he works on plenty of young horses.
"Most of my horses are young ones, I have only got about four racehorses."
"The rest are all yearlings or two-year-olds going through the motions."
Jasmine Jaccka was another of Saturday's impressive winners, stepping out of maiden grade to produce a smart win in race 7.
The Brett Gray trained four-year-old has thrived recently and that has helped her add another win to her family's record for owner-breeders Charlie and Ailsa Smaill.
"She won well at Forbury and I think the trip up there has really woken her up because her work has been fantastic," Gray said.
"She had been going well before that too, she ran a huge third after missing away."
"It is a breed that has been good to me, they test you but the ability is there."
Brad Williamson weaved his magic behind Jasmine Jaccka, giving her a sweet trip in the one-one and three back on the pegs before moving her to the parked position at the bell.