MOC & POC Strike Gold With imported Mare
By Jonny Turner
22 October 2020
Star North American Always B Miki colt Perfect Sting has been giving Southland breeders Mark and Pauline O'Connor fond memories of a trip to America they took more than a decade ago.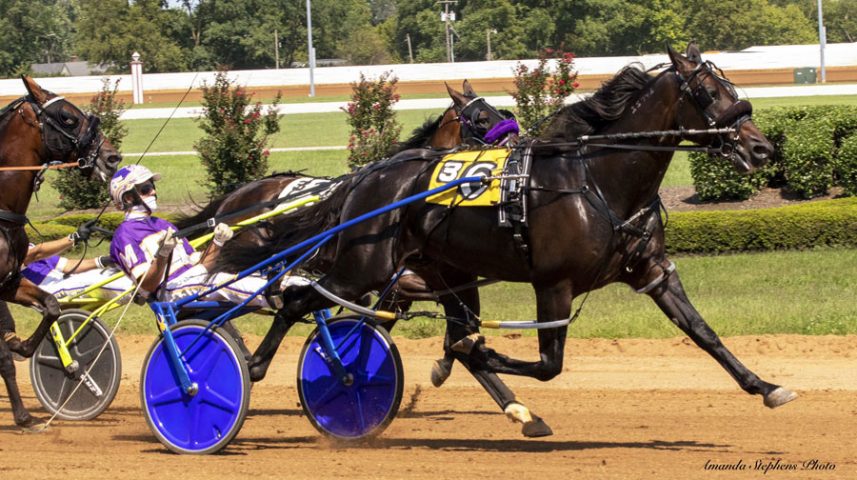 Unbeaten in three starts and with a 1.49.4 mile to his name, Perfect Sting has been tearing up the tracks of Kentucky and became the first two-year-old to break 1.50 in North America this year.
That is music to the ears of the scores of New Zealand breeders who have supported the freshman sire, including the O'Connors.
Having a three-quarter blood sister to Perfect Sting in their front paddock means the southern breeders have a little more interest than most.
"It is nice to see that colt four from four and running some pretty smart times," Mark O'Connor said.
"I have had a look at his replay runs, he doesn't look like he has excessive gate speed."
"He seems to stay out of the early rush and take a position two or three deep and come around them at some point and then just take care of them from there."
The O'Connors' close relation to the American flyer is a two-year-old filly by Always B Miki from Wantapieceofme, a Rocknroll Hanover half-sister to Perfect Sting's dam, Shebestingin.
Shebestgin is the famed former champion racehorse that held the fastest female of all time title until Shartin lowered her 1.47.0 record last year.
Little did the O'Connors know when they embarked on an epic tour of North America in 2008, with fellow southern breeders Brent and Sheree McIntyre and John and Judy Stiven, that they would be introduced to the man that would go on to breed their blueblood broodmare.
"The mare is bred by a guy called Stephen Dey III, who is a vet in New Jersey. John Stiven and Brent McIntyre and I actually met him when we went to the states a few years ago."
In a startling coincidence, O'Connor and Stiven were the two buyers to show interest in the Dey-bred Wantapieceofme when she came on the market as a broodmare proposition in New Zealand.
After a phone call between the two friends it was resolved that O'Connor would press on and buy the American import and Stiven would look at other options he had in front of him.
Wantapieceofme came to this country as a racing proposition and a syndicate was formed through Go Harness syndications before she was put in to work.
The Rocknroll Hanover mare won one workout for trainer Nigel McGrath and was unplaced in three other public appearances before she was retired to stud without a race start.
Her first two foals were bred by Wally Power's Pembrook Park in partnership with Noel Kennard.
Her first foal, by Bettor's Delight in Betterpiece, was bought at the national yearling sales for $40,000 by Justin Prentice.
The gelding has won two of twelve starts in Western Australia.
Wantapieceofme's second foal, by American Ideal, was knocked down to Lincoln Farms a year later for $85,000.
The 3yr-old, named Apieceoflou has placed once in six starts for Ray Green.
Bidders could have bagged the O'Connors' three-quarter blood sister to Perfect Sting if they had dug a little deeper in to their pockets at this year's NZB Standardbred sale.
And if it was not for a late rethink from her breeders.
"At the start of the day we started with a $24,000 reserve," O'Connor said.
"She handled the sale process really well – the boxing, the running in and out of the sale area – there was something about her we really liked."
"So, I pushed the reserve up to $29,000 knowing that the half-brother had gone for $85,000 the year before and Ray Green quite liked him at that stage."
"She would have sold for $24,000, but the next bid was $26,000, which was ours so we took her home."
The filly, named Hey Miki Denario, has impressed in two preparations since returning from the sales.
"Brent McIntyre broke her in when she came home from the sale and he has also gave her a second prep in the June-July period."
"He liked her when he broke her in, he said he had broken in in three Always B Mikis at that stage and liked them all."
Those who missed out on Hey Miki Denario can bid on the next foal from Wantapieceofme next year.
The O'Connors plan to offer her Art Major yearling filly at NZB Standardbred's February sale.
Wantapieceofme did not get in foal last season, when served late by both Sweet Lou and Always B Miki.
Her last service date of the first of February this year would have produced another three-quarter blood relation to Perfect Sting, which undoubtedly would have been born to North American time.
The O'Connors are still awaiting the arrival of two Always B Miki foals despite that miss.
Goodtogo Denario, the dam of Kayteeoh Denario (5 NZ & Aus wins) and Nota Bene Denario (5 NZ wins) in foal to the speester turned sire.
Another Presidential Ball mare, Shezaball, the dam of Rockaball (5 NZ & Aus wins) and Ronnie Pickering (1 NZ win) in foal to Always B Miki.
The couple also have Mantis Denario in foal to Sweet Lou in her second career pregnancy.
The Invercargill breeders have clearly been fans of Always B Miki from the start of his Down Under siring career.
Like many breeders, they were captivated by the horse's brilliance on the track.
"After we had handled this one (Hey Miki Denario) through her yearling sales prep, we just liked the cooperation and the intelligence from the animal."
"And I have been following what they have been doing in the States a bit, too."
"He was obviously a super racehorse and you just hope that x-factor passes through to the progeny."
"It is a bit like Somebeachsomewhere, he was just an unreal racehorse and passed that trait on to his stock."
The O'Connors also plan to take another yearling to next year's sale alongside their close relation to Perfect Sting.
A Sweet Lou filly from three-win Bettor's Delight mare Southern Delight will also be nominated for NZB Standarbred's February sale.
The breeders will keep two more of their yearlings, including a Captaintreacherous filly out of Shezaball.
The couple have also decided to keep the thirteen and final foal from Averil's Atom, a Well Said colt.
Averil's Atom has recently undergone the most unique of breeding barn retirements.
With several of her progeny to continue breeding from, the O'Connors took the 22-year-old Soky's Atom mare from their broodmare band and put her in Pauline's riding school.
The grand producer is now a hobby horse for a keen young Invercargill horse rider.
And the placid mare has been getting rave reviews for her work under saddle.
"Pauline runs a riding school that gives kids, from very young to a bit older, the basics of horse riding," O'Connor said.
"She has fourteen ponies – I call them the United Nations ponies – of all different shapes and sizes including retired standardbreds."
"The girl that is riding Averil's Atom is in her early years at high school, she is around 12, and she has been raving about what a good riding horse she is."