Sun Mist goes nine from nine
29 June 2021
By Dave Di Somma, HRNZ 
In baseball terms Sun Mist is batting 1000 –  all of her progeny that have gone to the races have now all won.
It's an achievement breeder Michelle Caig hopes will push her claims to be Southland broodmare of the year.
On Sunday Dreamsinthe Mist (Angus Hall – Sun Mist) got up to take out race 2, the Brosnan Transport Limited Passing Lane Trot at Timaru.
The victory, at start number 22, was especially welcome for her Winton-based hobby breeder Michelle Caig as it now means that all nine of Sun Mist's progeny that have made it to the races are race winners.
"Nine from nine – you can't get much better than that," says Caig,  "I was very happy."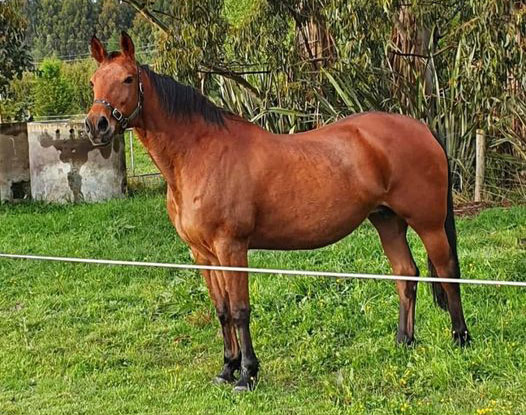 Trained and driven by Ashburton's Graeme Ward,  the four-year-old  had hinted that at a win wasn't far away, with two seconds in recent starts at Addington.
Caig, a support worker for HealthCare New Zealand, left work to watch the race on TV.
"I zoomed home so no-one could hear me and then he got back and thought it's going to end in disappointment again but he roared up on the outside, and nabbed them."
"I'm just so pleased they persevered with him. I'm surprised you couldn't hear me screaming!"
Sun Mist is royally bred, by Sundon out of Merinai.
Sundon's standing as as a sire is legendary,  he was the country's top stallion for 14 years in a row (2001-14) while Merinai  was an absolute star in the mid to late 1990s, winning 19 from 27 including the Rowe Cup, the Dominion and the National Trot.
Caig's association with Sun Mist goes back to 2010, after she took her on as a breeding proposition
"The first time I saw her the hairs stood up on the back of my neck, that doesn't happen often.."
"She didn't want to be a racehorse, at Geoff Small's place she stopped the jogger, and after going to the Hacketts  she just lay down on the beach."
But she excelled as a mum.
"That's her calling in life," says Caig, "to be a broodmare."
She's  produced some real quality including Leaf Stride (Love You – Sun Mist) who has won two for the Williamsons, and was second to Five Wise Men in the Lone Star Sires' Stakes Trotting Championship at Alexandra Park in April.
"He's going to open class," says Caig.
Other winners over the years have included Pretty Sunday (15 wins),  Rosemma (10 wins), Stuey D (10), Sonofanearl (7 ) October Rain (5), Hes Like The Wind (6) and Shes Like The Wind (1 win).
Now 19, Sun Mist is currently in foal for the 14th time, to What The Hill, while her daughter Shes Like the Wind has been served by Pegasus Spur.
"When she (Sun Mist) is not in foal she's awful , her hormones are all over the place," says Caig, "but she produces good natured foals who are very personable."
Taking Australian performances into account Sun Mist's progeny have won a total of 74 races, and with  the next generation just around the corner Caig is hoping that  winning run is far from done.