Sutorius & Stuart-bred Dennis Denuto defies all the odds 
By Duane Ranger 
Brown Changeover gelding, Dennis Denuto, who was dubbed a praying mantis for being duck-footed at birth, has his breeder to thank for being alive. 
The 7-year-old would never have made it to the races had it not been for his Loburn-based vet and co-breeder, Becky Sutorius. 
But the tough North Canterbury pacer, who has no idea how close he came to heaven's door, won for the fifth time at Waterlea Raceway in Blenheim on Friday (January 20).
"I was in a position to keep him alive and box and paddock him appropriately. It would have cost other owners too much to persevere with him, but I always liked him despite coming out looking like a praying mantis. 
"He's taken a lot of time, patience, splints, and shoeing, but I always believed in him. He's no star but he's done well since he started racing at four. Actually, he's exceeded all expectations, considering where he should be now," Dr (Becky) Sutorius said. 
"He's a real credit to Andrew," she added. 
Andrew (Stuart) is Becky's fiancé, and also Dennis Denuto's trainer, co-breeder, and co-owner with D J Stuart, Dr K M Lawson, P O'Hagan, G C Ruffell, P H M & Ms R A Sutorius, M J O'Malley, M J Campbell, and B T Robinson. 
Dennis Denuto was driven by Jim Curtin to win race eight at the Marlborough meeting – the Babich Wines R51-56 Pace. He's now had 33 starts for five wins, five placings and he's netted $38,458 in purses. 
His mother, Lucie Boshier (2007 Elsu – Well Dressed Poplar – OK Bye) raced in two countries for the Stuarts before returning to New Zealand to be a broodmare. 
From June 19, 2012, to January 13, 2014, she raced in WA in the colours of Perth trainer, Chris Brew, where she won eight of her 11 races ($132,380). 
"We did a 50 -50 deal with Chris because there just weren't enough races for her over here. It was a two-horse deal. We also sent over Siena Franco (Courage Under Fire – Seafoam Franco – Falcon Seelster). All 11 of her wins ($89,682) were in Western Australia 
"They both returned home to breed in early 2014. In late 2014 both mares left foals here in New Zealand. Siena Franco has left seven foals and this season was served by Bettor's Wish," Dr Sutorius said. 
Sadly, she said Lucie Boshier died last winter while she was in foal to Buy Kiwi Made. 
"That was gut-wrenching. 'Lucie' broke her pelvis in a paddock accident and had to be put down. It was very sad because she was a lovely mare who left us three fillies and three colts." 
Last year the couple, who operate under Loburn Limited, sold a 2021 Terror To Love colt to Marty O'Malley. The bay has since been named Here Comes Marty. 
Dr Sutorius said Lucie Boshier also left a now 3-year-old Sunshine Beach colt named Farewell Spit. 
"He's like an elephant. Eighteen hands high and goes okay, but is going to need a lot of time to fill his frame. He's huge," she said.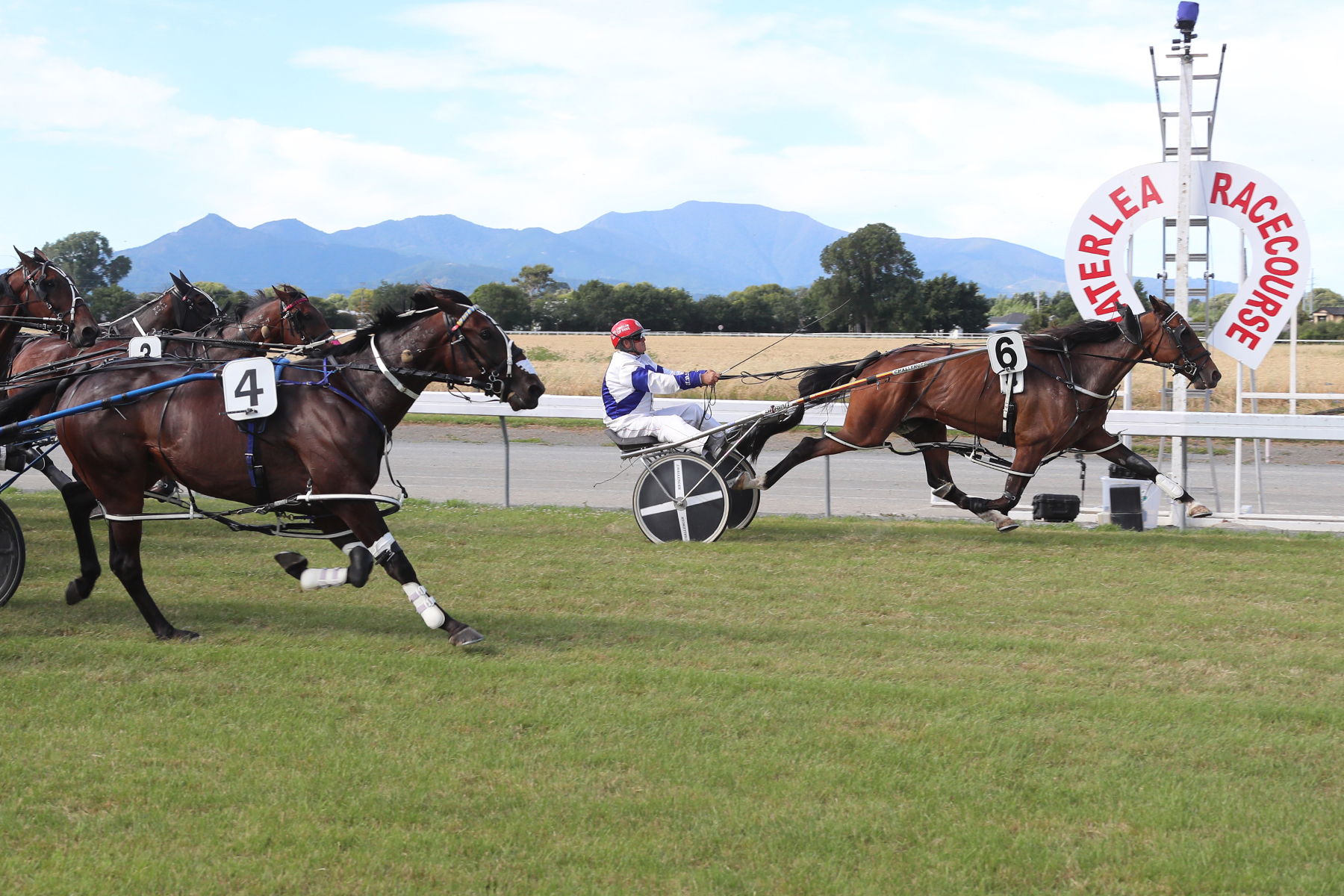 Before Farewell Spit came the 2016 brown Rocknroll Hanover filly, Joan Jett. She had four starts for the Stuarts, and then she was retired. 
"The first two foals were Chromozone (Mach Three). He's eight now and won two races here before going on to win another seven in Australia. 
"Then came Dennis Denuto, the horse born with the 90 degree angle legs. He won real well the other day and seems to be enjoying his racing. I think he can win a few more," Dr Sutorius said. 
However, he's not the best pacer that the Stuarts have bred. That title belongs to Lucie Boshier's older half-brother – the 2005 Badlands Hanover gelding, Mr Chrome, whom they co-bred with Mickey Bennett. 
Mr Chrome would have achieved a lot more than just seven wins and $60,000 had he not broken his pastern in 2012. He was destined for the New Zealand Cup that year. 
"We were devastated, but at least we got to breed from Mickey's next foal which was Lucie Boshier," Dr Sutorius said. 
Dr Sutorius is the owner / vet at Rangiora Equine Services, while next door her husband Andrew works a team of 20. 
The Loburn trainer has so far conditioned three winners from nine starters this season, and 280 ($2.2 million) since 1999.