Trevor Casey: Breeder of the Year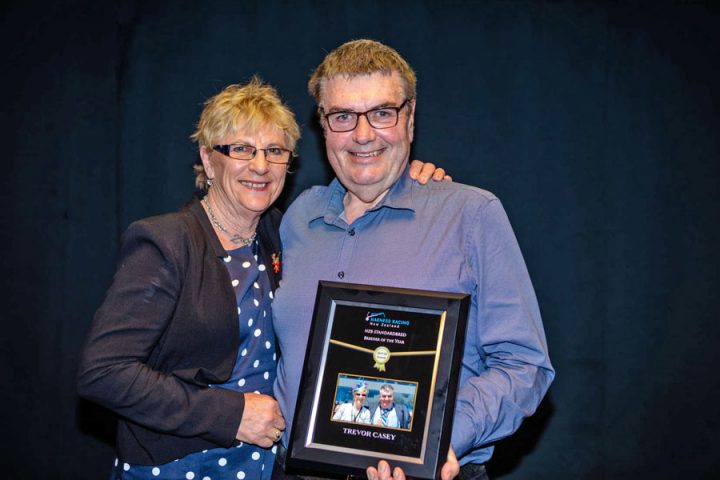 By Brad Reid
21 October 2020
Trevor Casey is no stranger when it comes to success in Harness Racing.
The recently retired Lazarus was pretty handy and easily the best horse Casey has been associated with, but as a breeder Casey has well and truly made his presence felt.
The newly crowned Breeder of the Year for the 2019/20 season had a brilliant year with 21 New Zealand breeding wins.
"I think my best season was about 98 breeding wins," laughed Casey.
One of the many winners that helped tip the award in Casey's favour was no doubt the success of his enigmatic trotter Winterfell.
For all the success of Winterfell which includes four Group Ones and a 3YO Horse of the Year title for he and his owner Casey, it could easily have never happened for either.
"I actually sold his dam Una Bromac when we were trying to cut back on some mares. She went to the All Age sale and was sold, but I retained the foal that was still on her which turned out to be Winterfell," laughed Casey.
The son of Majestic Son is named after the capital of the 'Kingdom of the North' from the cult series Game Of Thrones.
Fitting then that he is nigh on unbeatable at the home of northern harness racing, Alexandra Park.
His lead up form before heading north didn't show many signs that Winter was coming, but he soon made everyone sit up and take notice in the first heat of the Interdominion series.
Sitting outside NZ FFA winner, Tough Monarch, he saw his challenge off before staving off Marcoola and a charging Majestic Man who did no work in the running.
He was an unlucky fourth in the second heat, but really turned the wick on his rivals in the weeks to follow and was a dominant winner of the third heat and final.
"I hadn't won the Interdominion but had run second in it twice with Africa, but to win it was sensational.
"He's a bit of a trick and he's got his flaws, he probably doesn't go as good left handed but I've got the master on and Mark is working him and driving him and hopefully gets the best out of him. What he's done so far has been fantastic," said Casey.
Winterfell had a lot to live up to being a half-sister to a two, three and four year old female trotter of the year in Escapee.
"They were very similar and could fire up too, they are nice and calm to work with but on the track was a different story. That's race horses I suppose, they know what they are out there to do. Both had similar speed but Winterfell probably has that added toughness about him," said Casey.
The winner of the Hambletonian (G3), NZ Trotting Oaks (G3), NZ Trotting Derby (G1), GN Trotting Derby (G1) & Victoria's Maori Mile (L) and Melton Trotting Cup (G3) was sensational on her day and is now making a name of her own at stud for Casey.
"Unfortunately she can't have any foals on her own and has to be bred by Embryo Transfer which we will try again this year and see how that goes.
"I have a Muscle Hill daughter of hers called Exit we are breeding rom so I have a bit of the family, but the E.T's are expensive as you know," said Casey.
On the pacing side of the breeding coin for Casey, the win tally was significantly bolstered by the explosion of Spirit of St Louis (Sweet Lou) who is out of the Art Major mare, Spirit of Art.
"I had followed the Tabella Beth line for many years and actually tried to buy her with a foal at foot when she was for sale but I couldn't afford her back then.
"I have always followed the line and this filly came up for sale via Kirk Larsen. I purchased her on a deal with Dave Phillips and he has retained a quarter share in her," said Casey.
The daughter of Art Major had one start at two, but then ran into Adore Me as a three year old and despite racing in a number of the classics, was not quite up to the best of them.
She was no slouch however and retired as the winner of six races with six placings from only 26 starts.
"She raced really well and set a NZ record for a filly at Rangiora over 2000m when she was with Mark Purdon, and won the Thames Cup in her last start for Tony Herlihy but unfortunately she broke down," said Casey.
The Tabella Beth line needs no introduction having left the tail lines of the likes of Lazarus, Light and Sound, Star Galleria and Self Assured to name but a few.
The daughters of this line have been incredible producers and it should come as no surprise then that Spirit of Art would leave her mark at stud.
"Her first foal is Dracarys (Bettors Delight) and she has won 15 races for me," said Casey.
"I kept her and intend to bring her home to breed at some stage," he said.
"I've had offers but she is not for sale. I'm hoping to get a good time and she's gone 1:51, but I think she has a chance to break 1:50 while she is racing over at Menangle."
The second foal brings us to Spirit of St Louis who after winning both starts since resuming from the Covid break, was given a brief let up before resuming late last month in the Maurice Holmes Vase.
Despite an early gallop behind the tapes, Spirit of St Louis showed he is not out of his depth mixing it with the best pacers in the country, running on solidly from last in a fast last half finishing four lengths from the winner, Self Assured.
"He was quite small as a young horse but I struck a deal with Graeme Anderson who took him and syndicated him out to the guys that raced Eamon Maguire. I've retained a 40% share in him. He's got sensational speed and has done a great job so far, and I think if we look after him we will have a lot of fun with him," said Casey.
The third foal from the mare is a now three-year-old in Western Australia with Justin Prentice. El Chema (Bettor's Delight) was a $65,000 yearling sales purchase in 2019 and is displaying a lot of the family ability also.
"He went over to Perth with Justin and has won a race at two, but was quite a solid horse and had been tipped out to let him develop and grow. He's back in work now and they expect him to measure up as a three year old. He was a very nice horse and I was tempted to keep him but you just can't keep them all," said Casey.
When asked if he had any young pacers coming through that he liked the looks of, Casey didn't hesitate to mention the fourth foal from Spirit of Art.
While this foal was bred by his partner in the mare, Dave Phillips, Casey owns the two year old son of American Ideal and is more than a little excited at the prospect of what he may bring.
"The American Ideal out of Spirit of Art is pretty smart, he looks the goods and I really like him. He's gunna be trained by Ken Barron and he's a really really nice horse," said Casey.
"The mare is currently in foal to betting Line for Dave and he will retain that foal while I will breed the next three," he said.
Other Casey bred winners this season included;
"I've had a few offers for her but she's the only mare I've got out of Shesachristian and I've retained her and will breed her to Sky major," he said.
"She's Kate's favourite and is a lovely filly and we really like her and she should do a really good job."
"Unfortunately Charlie broke down, I had high hoped for him but he's been retired and has found a new home via the HERO programme with harness Racing new Zealand where he will be looked after," he said.
"She's out of Wanna Play and is a very nice trotter as well and being by Love You will continue to improve, and we are excited about her," he said.
Keeping Casey extremely active on the breeding scene has been the recent addition to the New Zealand pacing stallion ranks in Sky Major.
The only horse to win three Harness Jewels is currently at Wai Eyre Stud with Casey and his partner doing everything they can to give the son of Art Major a fighting chance.
"I did try to put him with one of the studs but they weren't interested, so we struck a deal with Wai Eyre Farm and he's stood out there for the last few years.
"We sent him to America to race and when he was coming to the end of it, we didn't know what to do with him.
"We decided to bring him home and make him available as a sire. He's a son of Art Major and we wanted to give him his opportunities.
"He's the only horse to win three jewels in this country and he won the Chariots of Fire and the Messenger. I thought he deserved his chance to stand at stud," he said.
Knowing that the stallion game is as much about numbers as it is about quality, Casey set about providing Sky Major with an opportunity to serve a number of race winning mares whom he would not have seen if it had been left to the market.
"John Lohmans and I raced Sky Major together and now stand him at stud. John and I leased quite a few mares the first season, the best we could find and bred about 20 foals ourselves.
"They are now yearlings and we have leased them out to trainers around the country to try, about half a dozen have been broken in and all reports have been very good.
"It was well received by everybody and these foals have been fed since they were on their mother and have been well looked after and were in lovely condition. Hopefully whoever has leased them has success with them.
"They are fantastic to handle, good gaited, I don't think any of them have had trouble pacing and have all paced basically straight away. Hopefully its onwards and upwards for him. We have another 15 or so ourselves to foal in the next three months and have another 15 mares to breed to him this year as well as any outside ones," he said.
Casey and Wai Eyre Farm have recognised the fabric of the harness community has been rocked by the pandemic and have priced the stallion this year at the exceptionally low fee of $500 making him extremely affordable option to all.
"Everybody is struggling with this Covid pandemic and we've put it out there that we have dropped his fee to $500. We've had a great response to that already and had solid bookings early which is encouraging.
"You don't make a lot of money out of standing stallions, but I'm in this game to support people and we'd certainly like to help them out," he said.
Breeding from upwards of 25 mares this season and previous, Casey struggles to identify a favourite.
"They're all my favourites when they win," he laughed.
"I had a soft spot for one I raced early on called Daenerys Targaryen, nobody could pronounce her name but she was a lovely mare," he said.
Casey became hooked on trotters on the back of the success of his wonderful mare Africa.
Since then they have made up a significant portion of the Casey broodmare band and he has enjoyed watching that side of the breed develop over the years.
"We've got the best stallions in the world available to us and I'm lucky enough to be able to afford to go to these stallions that are head and shoulders what we've previously had here.
"Sundon was a fantastic stallion but some of the trotting stallions are on another level now a generation or so on," he said.
While our trotting breed is going from strength to strength, Casey believes it will be a while yet before we see our best capable of taking on the likes of the European horses we now have access too.
"We've taken horses there in the past that have been exceptional horses that haven't measured up. We've got some improvement here yet. It's a hard task to take any horse that far and expect them to compete against the local horses.
"We considered it when I had Stent but it didn't eventuate and I'm quite happy to stay in my own yard really and compete here," he said.
Gael Murray who does all our breeding and she does a fantastic job, and Kate knows every horse on the place. I have to ask her what they are," he laughed
"We do a lot of hands on ourselves and take the mares round to gels to get served and use our farm here for the mares. It's a lot of work but we enjoy doing it.
Along with the American ideal out of Spirit of Art, we have a Sebastian K out Niamey coming through and we really like him. There is still some frozen semen about and we are going to breed Pocaro to Sebastian K this season," said Casey.
Casey also has plans to support the stallion who brought him his greatest thrills as an owner with Lazarus.
"I went last year but never got any in foal but we will breed another one to him this year.
"He was one in a million and if you look at all the stallions in the stud book, how many of them won 15 Group One races?
"He was a fantastic horse and I'm sure he will leave fantastic foals," he said.