Upcoming NZ-bred trotting millionaire
5th November 2021
By Peter Craig
On the cusp of becoming just the ninth Australasian-bred trotter to reach the magical million dollar mark, Tornado Valley is agonisingly $203 short of attaining his latest milestone. Trainer Andy Gath advises that the star will have his next start early in the New Year.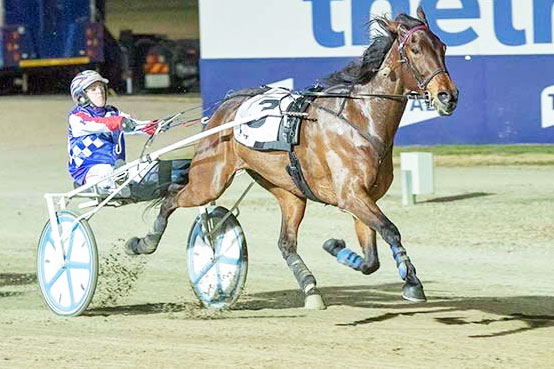 The nine-year-old gelded son of Skyvalley and Begin was bred by Mrs Petina Gaugler of Richmond and Ashburton trainer/driver Terry McMillan. Mrs Gaugler's association with this particular branch of the Peri family (N21) goes back three decades to Tornado Valley's third dam Chesapeake with an even earlier interest through fourth dam Susquehanna, part owned by her late husband Donald (Charlie) and trainer/driver Noel Berkett,
Noel Berkett, Petina Gaugler's father, is best remembered for NZ Cup winner Mobile Globe and Auckland Cup winner Prince Polka, although he had a soft spot and considerable success with the square gaiters.
Petina has known Terry McMillian for many years, commencing with half shares in the racing progeny of Tornado Valley's grand dam Bega. Petina credits Terry's "patience and all the hard graft with Tornado Valley that has made him what he is today". Racing in Petina and Terry's interests, Tornado Valley amassed fifty seven starts in NZ for seven victories (two Addington) and 21 placings, $70,947, T2:02.0 over 3½ seasons before his sale to Victorian Norm Jenkin in February 2018.
It was obvious that the racing style in NZ didn't entirely suit Tornado Valley, whereas a multitude of mobile start races in Australia would suit him down to the ground. In Victoria Andy Gath has handled the training duties, with wife Kate doing the steering from their Long Forest base 45kms from Melbourne in the federal electorate of Ballarat. Petina had been in Australia after the 2018 Melbourne Interdominions and visited the Gath's property. She says the Gath's simply "love Tornado Valley to bits".
Since his arrival in Victoria, Tornado Valley has recorded a further thirty one victories and ten placings from fifty starts, T1:53.1, $928,850. His overall record stands at 107 starts : 38 – 17 – 14, $997,797 (leading family stake earner). This includes ten Group One wins – ID Trotters Grand Final (three heats), two Great Southern Stars (heat Gp1), two Maori Miles, two Knight Pistol Cups, Bill Collins Mile and AUS Grand Prix (also second). In addition he has won fourteen Group Three events.
Twenty two of Tornado Valley's victories have come at Melton (record for a trotter). He was Australian Trotter and stake earning Trotter of the Year in 2019, 2020 and ANZ Trotting Masters Champion for 2020. He holds the Melton mile rate record of T1:53.1 (1720m, heat of Great Southern Star, 5 February 2021) and is the second fastest trotter at Bendigo's Lords Raceway, T1:54.1 (Maori Mile, 5 January 2019).
His successful sire is Skyvalley (Muscles Yankee/Chiola's Lass – also dam of Allegro Agitato, Cabaletta). Sky Valley won 24 (Breeders Crown 3T/4T, Bill Collins Mile, third ID Trotters Final, $322,675, T1:56.4), and is also the sire of Pink Galahs, 17 wins, T1:54.2, $304,104, VIC Trotters Oaks/Derby, Bill Collins Mile.
Tornado Valley's two-race winning dam Begin (2002 Sundon/Bega) was bred by Petina and raced by her with Terry McMillan, T2:06.6, $21,854. Her six foals to date (due to foal to Creatine shortly) for Gaugler and McMillan include first foal Tornado Valley and four-race winner Steel Dust, T2:01.4, $29,938.
Bred and owned by Petina, Tornado Valley's unraced grand dam Bega (1987 Lordship/Chesapeake) produced eight foals for five winners, three of whom also raced and won in Australia. Her winners were :
Hershey, Addington winner, three AUS wins (two Harold Park), T2:08.1AUS, $16,040; dam of three-race winner Strazeele, T2:01.6, $25,758
Hanginthere, three NZ/five AUS wins, T2:05.9AUS, $46,469, Stawell Trotters Cup
Strapon, four NZ/one AUS wins, T2:05.7 NZ; dam of two winners – Barefoot Sally, twelve wins, T1:56.9AUS, $110,250; Bacardi Jess, six wins, T2:00.8AUS, $50,260
Begin
Desert Blue, winner, T2:10.5, $5,318 for Terry McMillan as owner/trainer/driver
The jewel in Tornado Valley's maternal line is his third dam Chesapeake (1978 Game Pride/Susquehanna), 3f Trotter of Year and winner of Trotting Stakes – 3T (now NZ Trotting Derby) among her six victories (three at Addington) and eight placings from twenty one starts for Petina (breeders: Donald Gaugler/Noel Berkett, trainer), T2:06.9, $19,927. Retired after three starts as a five-year-old due to a broken sesamoid bone, Petina says "we never saw the best of her". The dam of eleven live foals, five to race for four winners for Petina (except Strawb's K Two, bred by Brian Wastney) including :
Bega
Grand Jete, winner, T2:08.9, $6,700, second NZ Trotting Stakes – 2T for Petina/ trained by Noel Berkett
Strawb's K Two, Addington winner, T2:11.2, $3,725; dam of three winners including Nottingham K Two, six wins, T1:59.7, $54,290
Tiger Galleon, 22 AUS wins (seven Albion Park), $128,153, T2:03.7AUS; NSW Trotters Derby (Fairfield), fifth VIC Trotters Derby
Chesapeake' dam Susquehanna won two for breeder Noel Berkett and Donald Gaugler, finishing fourth in 1974 Trotting Stakes – 3T. In addition to Chesapeake, she left half-sister Graceland whose grandsons The Drunken Drummer won nine, T2:05.4AUS, $81,943 and Kowhai Monarch, to date winner of thirteen, T1:57.4AUS, $149,786 were both winners of Group race Franco/Australian series. Another grandson Kowhai Whiz won nine, T2:02.4, $69,928 for new NZMTC Chairman John Hartnell.
This is the family of Peri (N21), through her daughter Daphne and granddaughter Daphne Wilkes (ancestress of Parawa Derby [NZFFA], Gracious Knight [NZ/Easter Cups], speedy trotter Todd Lanzia), ultimately leading to Chesapeake. Daphne Wilkes, a half-sister Sweet Daphne, heads an amazing family branch of predominantly pacers – Jiffys Girl, Vice Chairman (fastest family NZ performer 1:51.9/Australia Maajida 1:50.3), Preferred, Quiet Touch, Scruffy Murphy ($½m), Ohoka Texas (1:50.1US), Miracle Man (1:50.0US), Mustang Mach, Morgan James (highest family pacing stake earner, $571,966) and trotters McGrady (Challenge Stakes), Great Venture (Dominion Hcp). Another sub branch of Peri through Betty Martin leads to Governor Frost (GN Derby/Messenger) and Justaboyden (WA/Fremantle Cups).
Tornado Valley has continued a proud family record for Petina Gaugler, presenting her with numerous "amazing thrills", adding that "her Dad would have absolutely loved what Tornado Valley has achieved".