Williamson Welcomes Addington Reprieve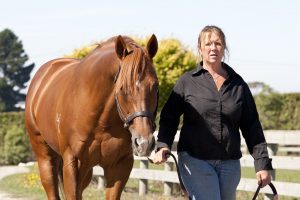 By Joshua Smith, HRNZ
11 September 2020
There don't seem to be enough hours in the day for equine veterinarian Donna Williamson, but she makes sure to have time to train her small team of standardbreds.
The South Canterbury trainer is being kept busy running Belmont Park, but she is looking forward to getting off her property on Friday to head to Addington Raceway with Group Three performer The Dominator.
The seven-year-old trotter will contest the Gr.3 Alabar Ordeal Trotting Cup (2600m) and Williamson said she is pleased with The Pres gelding after recording a win and a placing in his last two starts.
She was particularly impressed with her trotter's last start efforts when placing behind Heavyweight Hero when he set a 2600m mobile New Zealand record of 3:12.13.
"That was fantastic," Williamson said. "Particularly the time they ran and the level of the company. We were really pleased with that."
Williamson is a little bit wary of The Dominators rivals on Friday night, but she has every confidence he can be competitive once again.
"He seems very well, so fingers crossed, but the competition has got a bit rich," she said.
"I am pleased with him. He has been unreliable in the past, but hopefully we have got it right now. We have been on the right track for a couple of starts now."
The Dominator's main aim for the spring is the Gr.1 Dominion Trot (3200m) for which he would gain automatic entry if victorious on Friday.
"He is nominated for the Dominion, which he broke in last year. Hopefully another year of maturity will help settle him and he will trot all the way in that."
While excited about The Dominator's prospects this season, Williamson is also looking forward to the future with a couple of his stablemates.
"I have a three-year-old filly called Belmont Diva, who is a full-sister to Belmont Major. We are hoping to get her to the trials this prep," she said.
"We have also got a three-year-old full-sister to Winterfell and she is just jogging at the moment and will go in the cart in the next 10 days. She will hopefully be exciting, but is a work in progress."
There is plenty to looking forward to with her training, but Williamson's focus over the next few months will be mostly on the broodmares foaling down at her Timaru property.
"We had a foal at 1am on Thursday morning and another one four days ago. That is just the start of another 50-odd to come, so that will keep me busy," Williamson said.
"At this time of year the broodmares come first and the racehorses fit in around whatever else is happening. That is one of the reasons why I only train our own.
"But we fit it in, as long as there is daylight you can get something done."