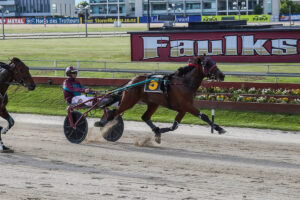 Hall enjoying prosperous spring
By Jonny Turner
Otago breeder Stephen Hall is having a good spring.
Hall watched on last week as the horse he sold at last year's National Yearling Sales ran to an impressive win over a quality field of two-year-old trotters at Addington on Friday night.
Trainer-driver Gavin Smith purchased Brother Love (Love You-Bobbins-Monarchy) out of the Christchurch sales ring when he was offered by Hall as part of Macca Lodge's draft. Smith, who syndicated the trotter, gave Brother Love a perfect run in the trail and he dashed away from others who had already won races to score a tidy maiden victory.
"I sold him for $16,000 and he has just about won that back already," Hall said. "It was a great win, it was a good field and he sprinted past them, he was slowing up at the finish, he did it easy."
Bobbins won five times and placed on 11 occasions and Brother Love is her first foal.
After a run of colts, Hall is now hoping he can get a filly next year. He's got two chances after sending both Bobbins and her dam, Bobby Jo (Sundon-Strike Account-Gee Whiz II) to En Solitaire this year.
"I went to En Solitaire because he is by Ready Cash, who is the latest sensation. I have heard the Butts have a two-year-old over in Australia by him that goes pretty good."
Bobby Jo is an unraced daughter of handy Gee Whiz II performer, Strike Account. The mare is two from two with her progeny at the races. Bobinup (Majestic Son-Bobby Jo-Sundon) won on debut and had just one more start before she died.
The third foal from the mare, Joedium (Quaker Jet-Bobby Jo-Sundon), has trialled but hasn't made the races yet for trainer Syd Breen.
"He is Syd's first trotter, he does a great job and he puts a lot of time into them," Hall said. "He went to the Balfour trials but he didn't like the wet track at all. Mark Hurrell drove him and he said to Syd that he felt a stronger than he was last time."
"We are looking at Omakau with him, I think."
Bobby Jo has also left a Majestic Son colt who Hall has entered in the National Yearling Sales at Christchurch.
The mare slipped a Royal Aspirations foal before being served by En Solitaire this season.